Andrew Yang drops out of presidential race
Posted by Josh Taylor / February 12, 2020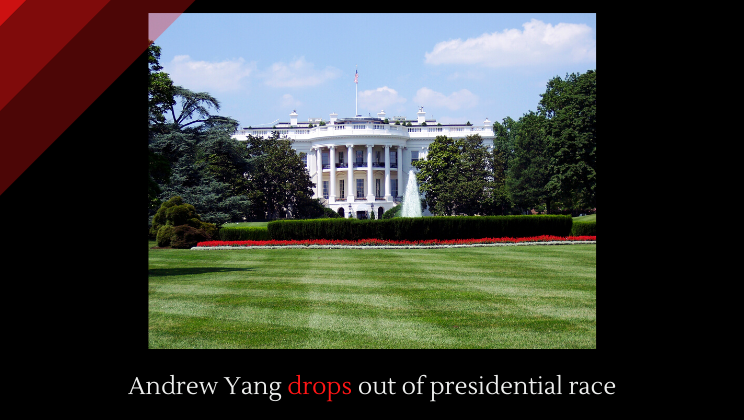 Andrew Yang has ended his presidential bid, predicting that he will not be a contender for delegates in the upcoming primaries. He said he would be open to serving on a cabinet or as a running mate, though he has not yet endorsed another candidate.
The race as changed dramatically since the fiasco in Iowa, where Pete Buttigieg won a narrow victory over Bernie Sanders. Early results in New Hampshire show Bernie Sanders in the lead in that state.
Sanders has steadily been gaining steam, despite major news networks (cough MSNBC cough) disparaging him. Twenty-six percent of voters, according to a recent poll, say that they think Bernie Sanders is the most honest presidential candidate. The next highest––by a wide margin––was Joe Biden, at 17%. Warren was third at 14%, while the remaining contenders all had single digit numbers.
Bernie Sanders is witnessing a huge surge in popularity, just over a week away from the Iowa Caucus. This may be the perfect time––Elizabeth Warren, his closest non-Biden rival is lagging, and Biden himself is beginning to experience a bit of a slump.
A recent poll of 4,069 voters has Bernie Sanders farther ahead of a Trump in a national election than any other Democrat. According to the poll, 52% of voters pick Sanders, while only 43% picked Trump. Biden was next at 50% to Trump again at 43%, followed by Bloomberg at 49% to Trump's 42%.
Bernie Sanders has risen in the polls, and he is now tied with Joe Biden among registered voters. As one New York Times op-ed author titled a recent piece: "President Bernie Sanders: It Really Could Happen."
Things are changing in the Democratic primary field. It's looking increasing likely that Bernie Sanders could actually be the nominee. He's currently leading a tight race in Iowa at 20%. Elizabeth Warren is behind him at 17%. Biden is in fourth at 15%.