Attorney General Barr not quarantining despite exposure to COVID
Posted by Annie May / October 4, 2020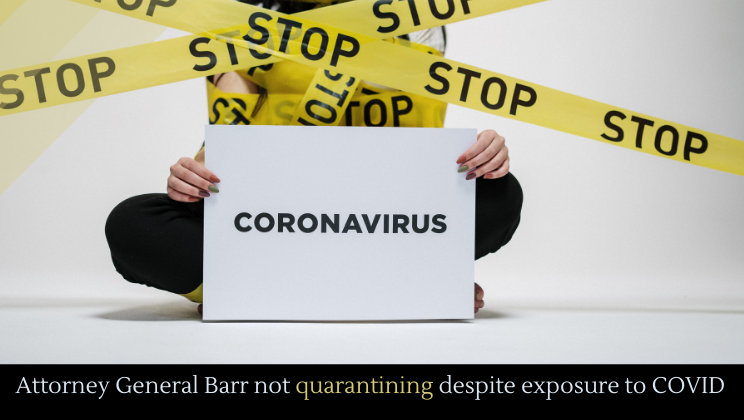 Attorney General Barr is, inexplicably, not going into quarantine despite being in close proximity to several members of Trump's inner circle who have contracted the COVID.
A source told the Associated Press that President Trump was given supplemental oxygen before going to the hospital. He appears to be doing better now, though. He is no longer on oxygen, and he has been given his first dose of Remdesivir, an experimental antiviral treatment.
Donald Trump and his wife have tested positive for COVID. Ronna McDaniel, the chairwoman of the Republican National Convention, has also tested positive for COVID. And, according to Christ Christie, no one on Trump's debate prep team was wearing a mask, meaning it is likely that all of Trump's aides have been exposed to COVID.
Some staffers report that Trump was showing signs of COVID on Wednesday, leading to some fears that Joe Biden might have been exposed during Tuesday's debate. Fortunately, Biden has tested negative so far.
This is something of a nightmare scenario for Trump and, more significantly, the nation. For Trump, this means multiple canceled campaign events in the upcoming days and a radically adjusted campaign schedule in the crucial pre-election month. There is also, of course, the risk that he falls seriously ill, as he is both over 70 and technically obese.
For the nation, this raises 25th Amendment issues. Should Trump be unable to perform his duties as Commander in Chief, he will have to step aside and Mike Pence will assume his duties. Pence has so far tested negative for COVID, but it is still possible he has contracted the virus, presenting further challenges to the government.
More news.