5 Times Bitcoin Hit All-Time Highs Within the Past Two Years
Posted by staff / November 15, 2017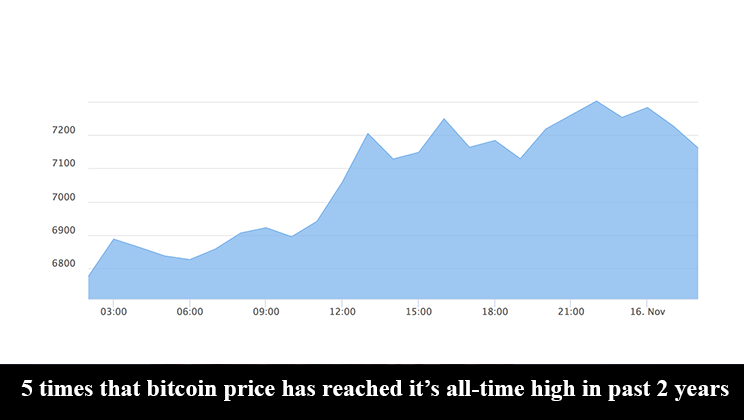 Chances are you've heard of Bitcoin these past few months as the #1 cryptocurrency has exploded to new all-time highs week after week—sometimes day after day.
Per Coinbase's yearly charts and BitcoinPrice.com in November 2015 you could nab yourself some bitcoins at around $380 each. Not bad, right?
Well today, in November 2017, each bitcoin will set you back approximately $7,150—an astonishing 1,780% appreciation in value since just two years ago.
1) June 18, 2016
The price of Bitcoin stagnated in the $300-$400 zone for most of 2015 before surging up to a then all-time price high of $757.77 on June 18, 2016.
2) March 3, 2017
Then after 6 months had passed, BTC jolted up 69% to a new price-high of $1,280.36. This would be the first of several major spikes in 2017 alone!
3) June 11, 2017
And then in the summer of 2017 the crypto space sees the price of Bitcoin really beginning to move, settling at a new all-time high of $2,875.
This price point marked a 124% increase from the previous price milestone of $1,280.
4) September 1, 2017
On September 1, 2017, the Bitcoin community saw another impressive milestone reached, with BTC capping $4,764.56 before consolidating in the short-term in the upper $3,000s.
5) November 5, 2017
BTC hit its latest all-time price high on November 5, 2017—almost touching $7,600 before settling back around $7,200. At least, for now, that is!
So where's Bitcoin going from here?
Blockchain technologies have the potential to change the world in the same way that the internet revolutionized human society. Thus with the Bitcoin blockchain being the first-mover in the space, excited new investors from across the world who are looking to throw their chips into the blockchain craze are going to be moving into Bitcoin in growing numbers in the months ahead.
Consider below this logarithmic regression chart that was created in 2015:
If this chart's projection is correct, then Bitcoin could be crossing the $10k mark by the end of December 2017.
And with Bitcoin pressing up against $8,000 at the beginning of November, this new milestone seems more reachable than ever.
Interesting in dabbling in BTC yourself? Try Coinbase today
When it comes to getting into the wild world of crypto, there's no safer and more legitimate of an entryway than Coinbase to buy bitcoin.
Based out of San Francisco, Coinbase makes getting into crypto easy, fun, and accountable. Interested in dropping $100 into Bitcoin and seeing what happens?
Sign up for Coinbase today and get $10 dollars in free bitcoin and see what the crypto craze is all about!