Chile ends statute of limitations on child sex abuse in light of Church scandal
Posted by Catherine Reed / July 16, 2019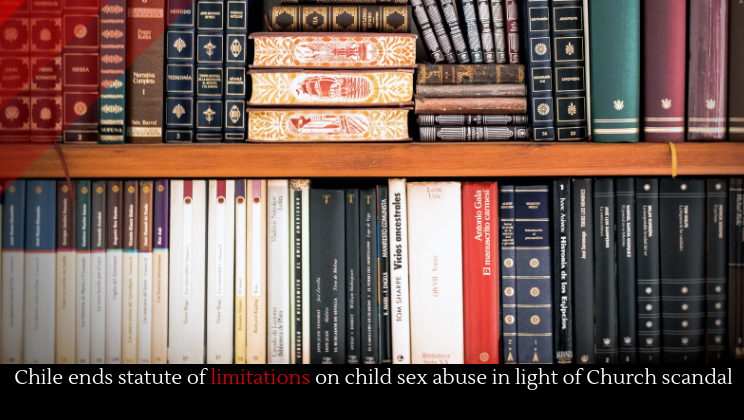 Chilean President Sebastian Pinera has signed a bill removing the statute of limitations on child sex abuse. The law was first proposed in 2010, but the country lacked the political will to enact it as law. Recent developments have, however, galvanized the nation.
The change was inspired by the Pope's recent visit to the nation, which itself inspired victims of abuse to step forward in protest. There are now more than 150 cases of child sexual abuse involving the Catholic Church being investigated.
The Chilean action is part of a growing awareness of child sexual assault. Jeffery Epstein, for example, has been arrested on charges of sex trafficking. One woman has accused him of raping her when she was only 15-years-old.
R. Kelly has also been recently charged with federal crimes. Both the Kelly and Epstein are being handled federally, indicating that––finally––child sexual assault is being taken as seriously as possible.
Earlier this year, a YouTuber discovered an organic, yet widespread, pedophilia ring on YouTube. YouTube's algorithm shows you more videos like the videos you tend to watch, so if you watch a few videos of, say, little girls doing gymnastics, YouTube will show you more videos like that. But it gets much, much worse.
There's an error in the algorithm, and once you click on a few of those kinds of videos, that's all you'll see. And if you look in the comments you'll find pedophiles timestamping parts of the videos with girls in compromising positions. Many of these videos were taken and re-uploaded by the pedophiles themselves. Of course, these videos all contain advertising. So basically, YouTube is making pedophilia profitable.
Disney, Nestle, AT&T, and Hasbro have pulled their advertising dollars from YouTube. "Until Google can protect our brand from offensive content of any kind, we are removing all advertising from YouTube," an AT&T spokesperson said. The fallout for this is bound to continue.
More news.