Chinese hackers and thieves cost American economy $57b a year
Posted by Annie May / April 14, 2019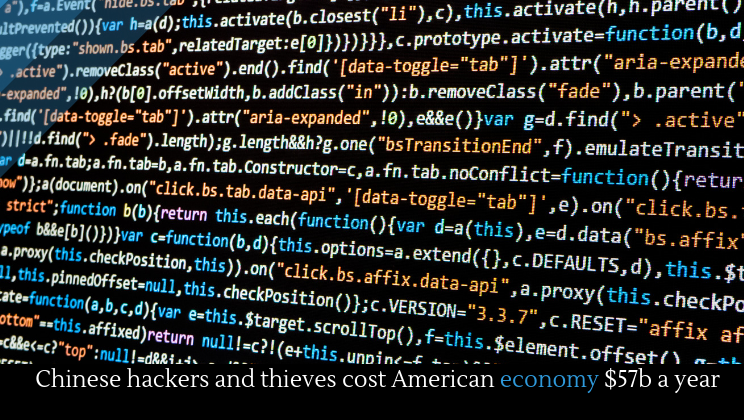 Chinese tech thieves and hackers and business cheaters are costing the American economy a whopping $57 billion per year, and American companies are too afraid to come forward.
For nearly two-decades, China has been stealing secrets from American companies. The companies are so deeply embedded in trade with China that they feared short-term profit losses and maintained silence. Now, companies are beginning to see that long-term profits are going to suffer so severely as to exponentially outweigh any short-term gains won by silence.
This news ads to a growing body of evidence suggesting that China has been engaging in a Cold War against the United States, and that their efforts are ramping up. A few months ago, Rear Admiral Lou Yuan of the Chinese Navy spoke to the Military Industry List summit, saying that the continued disputes over the South China Sea could be solved by sinking two US aircraft carriers. Yuan believes that the trade war between the two countries is part of escalating tensions and signals a "strategic issue."
As for the trade war, in an interview with Bloomberg, Soren Skou, chief executive of A.P. Moller-Maersk A/S has said, "Chinese exports to the U.S. actually grew 5-10 percent last quarter. Meanwhile, U.S. exports to China fell by 25-30 percent." In other words, the trade deficit is getting worse, not better. Skou believes there are two reasons for this: "Firstly, the U.S. economy is doing well so consumers there have more money to spend on imports, he said. Secondly, a lot of the really big U.S. companies are hoarding Chinese imports to buy as much as possible before tariffs kick in, he said." To clarify the second point, basically large companies like Nike and Wal-Mart are importing as much raw materials as they can before Trump's tariffs kick in.