Federal presence heats up Portland protests
Posted by Thomas Bush / July 27, 2020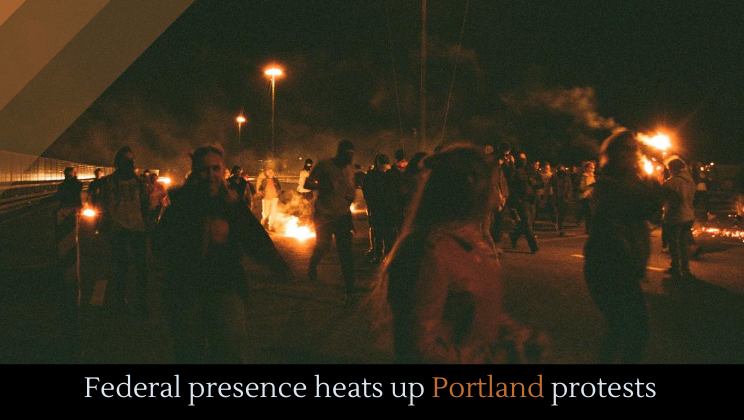 Unsurprisingly, the presence of violent, untrained federal troops in Portland, Oregon is leading to more protests and more police brutality. Although Trump claims he wants to stop the unrest in Portland, city officials say the troops are only making things worse. One wonders if that's what Trump wants, given the debacle at a press briefing last week, when White House Press Secretary Kayleigh McEnany played a supercut of the worst moments the recent nationwide protests, including one woman wishing death on the police. The video was such a blatant attempt to cherrypick the ugliest parts of an otherwise overwhelmingly peaceful movement that even Fox News cut away from the briefing. But the administration's goal is clear: try to get the protestors to look bad.
Trying to capitalize on the "law and order" vote, Trump has said that he is willing to send as many as 75,000 federal agents to cities to quash "violent crime," which appears to be code for protestors. This could be catastrophic for our civil rights, since an attorney arrested by the federal police in Oregon, said police did not read her her rights, constituting a major civil rights violation.
And now, federal police from the DHS are headed to Chicago, in what is beginning to seem like news reports from the Civil War. Trump already sent federal police to Portland, in what critics are calling an act of political theater: "This political theater from President Trump has nothing to do with public safety," Kate Brown, Oregon's Democratic governor, said in a statement. "The president is failing to lead this nation. Now he is deploying federal officers to patrol the streets of Portland in a blatant abuse of power by the federal government." Protestors reported being very confused about what was going on, unsure of whether the police were real authorities or right-wing extremists.