Hong Kong protestors form 28-mile chain, demand democracy
Posted by Thomas Bush / August 23, 2019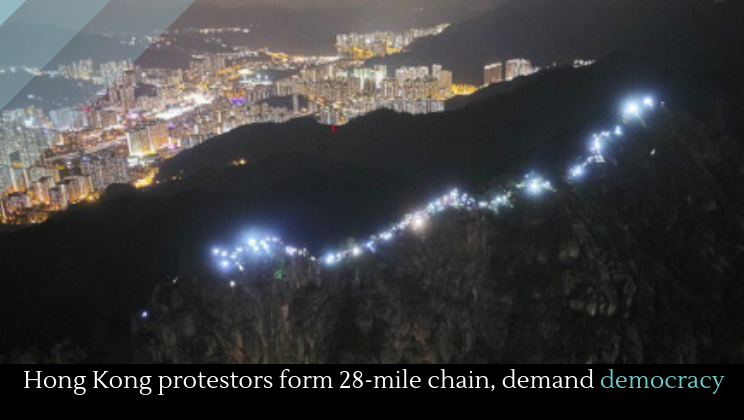 Hong Kong protestors have made their demands abundantly clear: they have formed a whopping twenty-eight mile chain, stretching all the way up Lion's Rock, demanding democracy. For citizens of Hong Kong, Lion's Rock represents the strength of their people.
Earlier this week, Hong Kong Legislative Council Member Lam Cheuk Ting produced video evidence of police torturing a protestor. The video shows police officers abusing an elderly man––slapping him, poking his eyes, bending his fingers back, humiliating him, and so on.
Twitter has shut down 200,000 Chinese accounts for spreading disinformation about the protests. It will also ban ads from Chinese government-backed media companies. Facebook has done nothing to stop the spread of disinformation or to ban state-backed ads.
Hong Kong's super rich are calling for an end to protests––because, of course, the protests are hurting their bottom line. Together, the ten wealthiest tycoons have lost billions of dollars.
The Chinese media has said that Hong Kong protestors are "asking for self-destruction." They also released a video of the Chinese military amassing near the city's border. Although the protestors have abandoned the airport after occupying it over the weekend, they are continuing protests throughout the city.