HQ Trivia – A Live Gameshow Experience Right in Your Hands!
Posted by staff / November 7, 2017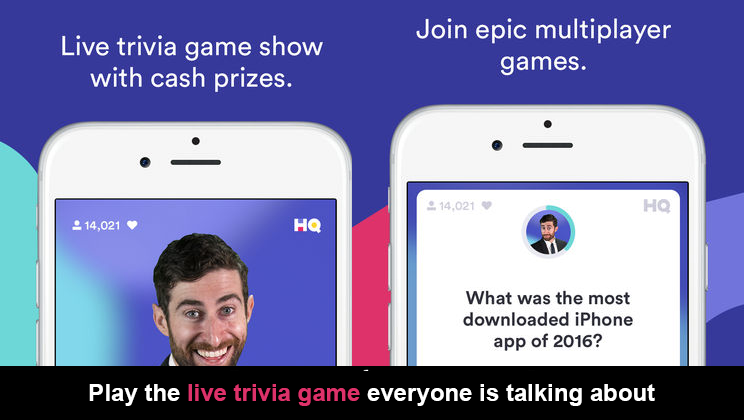 HQ Trivia is the world's premier live trivia app for Apple iOS customers, running two live rounds of trivia each day.
In these rounds, players can compete from the world over to win real cash prizes!
Best yet? It's totally free—take it for a spin anytime.
HQ Trivia Referral Code
Pro Tip: Invite as many of your friends as possible with your HQ Trivia referral code  to horde "extra lives" and increase your chances at winning cash. If you need an HQ Trivia referral code? Use our's it's  kdollar
How to play HQ Trivia
It sounds easier than it sounds, but the gist of the game is simple: answer ALL your questions correctly.
If you answer even one question wrong, you'll be disqualified from that round and won't be eligible for any prizes.
The good news is that you can use "extra lives" to stay in the game after incorrect answers.
To get started, you'll download the app from the Apple Store and create your account.
Once you're done with that, you'll sign into one of the two live HQ Trivia sessions per day: one at 3p.m. EST and one at 9p.m. EST.
Then follow the host's instructions, and answer the trivia questions when prompted to!
How can I reach HQ Trivia if I need help?
Start by contacting them on Twitter @hqtrivia—that's a safe bet.
They should get back to you in short order there.
HQ Trivia Tips for winning?
Here's a few suggestions to increase your HQ Trivia experience:
Consider losses as practice; stick around in the chat to practice on the remaining questions
Careful where you click—you could accidentally press the wrong answer
Activate your app notifications so you won't forget about the daily live trivia sessions
It's always more fun when you play with friends, so invite them to join you!
Avoid the chat – swipe right to remove them from your screen