Find the Best LG C7 Black Friday Deals
Posted by staff / November 17, 2017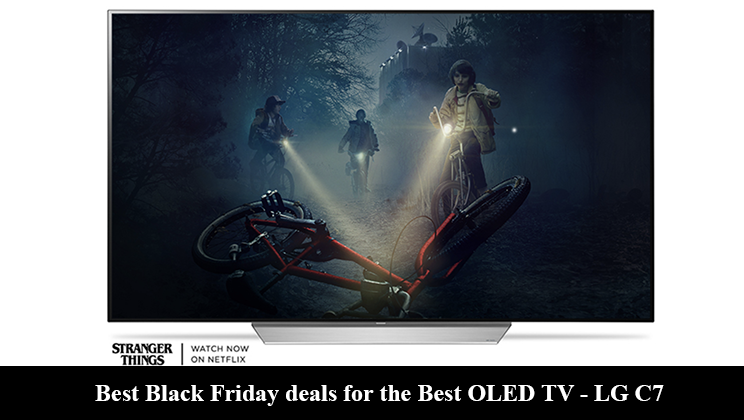 The LG C7 OLED is the best-rated TV on Wirecutter for good reason: it comes "as close to perfect as a TV can" and provides the "best picture possible," bringing an unprecedented level of gorgeousness to your movies and shows.
Home entertainment at your house will never be the same if you pick up on these bad boys this holiday season.
Don't take our word for it – take the experts':
"The best overall TV we've ever tested" – CNET
"You simply can't get a better picture anywhere else" – DigitalTrends
2nd best TV behind LG W7 – Consumer Reports
That's why today we'll be walking you through the LG C7's most promising Black Friday sales so you can get your family the perfect TV for the best possible price come Thanksgiving.
For starters: what's the LG C7's base price?
Before coupons and sales, LG suggests retailers sell the LG C7 for $4,499.99 USD.
Now you know why we're doing a Black Friday sales article! It's beyond well worth it to get this premium TV while it's price will be as low as possible.
Don't think you can wait until after Black Friday to nab your C7, you may end up having your wallet gouged on that "suggested" price!
Best LG C7 Black Friday Deals 2017
For the 65" inch LG C7, you'll have loads of Black Friday deals to choose from.
Note: deals may fluctuate in the coming days / from region to region.
For your part, all you'll have to decide is where you'd like to get your C7 from and what price is right for you:
If you go ahead and pick up your LG C7 during Black Friday, then, you'll average several hundreds of dollars' worth of savings on your TV no matter where you shop.
Not bad for the best TV in the world! And as you can see from above, the clear savings winner Walmart. With a price of $2,470,34, they're offering the best Black Friday deal on the LG C7 for now!
Don't miss this Black Friday chance…
These kinds of prices are only around once a year. Make your money worth its bang by grabbing a cheap C7. Your TV's HRD highlights and contrast ratios will look like nothing you've ever seen before. Order one from one of the links above while you still can – these C7s are undoubtedly going to sell out fast this year.