Trump blames Obama and Biden for stopping COVID testing, even though COVID didn't exist yet
Posted by Robert Leonard / July 15, 2020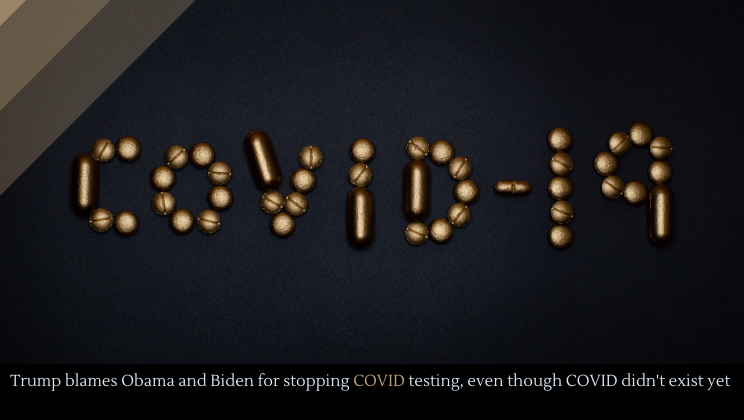 A real leader bravely faces hardship, without complaint and without shirking responsibility. Unfortunately, Trump does not do anything of the sort. Instead, according to a new report, aides have to brace themselves for a "woe is me" monologue whenever more bad news related to COVID happens. And now he's gone a step further: he's trying to blame Obama and Biden for stopping "their testing," even though COVID didn't exist until three years into Trump's presidency. Clearly, he's trying to use the COVID crisis to hurt Biden's campaign, but this is truly a ridiculous play.
In the height of the Black Lives Matter protests, Trump  dismissed the protestors from around the nation saying that they're not his voters. He's doing the bare minimum to appease the protestors, like postponing his planned Juneteenth rally, but these comments show that all he cares about is getting reelected, even if that comes at dividing the nation.
Think about the series of surprise rallies Trump just announced. Anyone who wants to go has to sign a document waiving their right to sue if they get COVID. Those waivers are definitely necessary since COVID-19 is on the rise in the United States again. That's what makes it all the more significant that Trump is blaming everyone else for COVID––he is incapable of taking responsibility.