Trump may have just threatened war crimes against Iran
Posted by Josh Taylor / January 5, 2020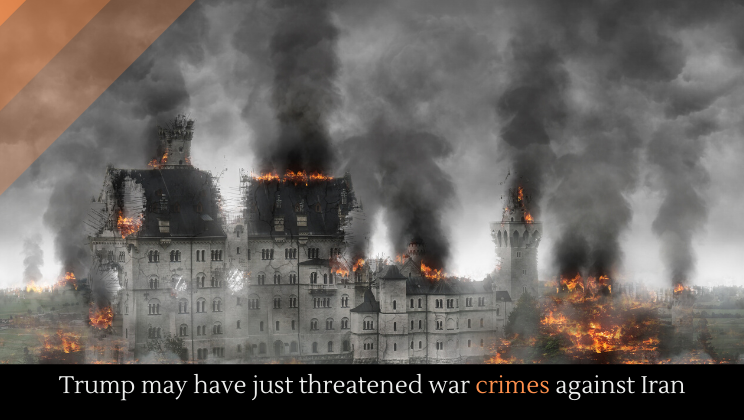 President Donald Trump has said that, should Iran retaliate for the recent attack, the U.S. had a list of fifty-two Iranian targets. Some of those targets include cultural sites. Brilliantly, he made this threat on twitter:
"Let this serve as a WARNING that if Iran strikes any Americans, or American assets, we have targeted 52 Iranian sites (representing the 52 American hostages taken by Iran many years ago), some at a very high level & important to Iran & the Iranian culture, and those targets, and Iran itself, WILL BE HIT VERY FAST AND VERY HARD. The USA wants no more threats!"
But the United Nations specifically bans attacks on cultural sites: "the unlawful destruction of cultural heritage, including the destruction of religious sites and artifacts, and the looting and smuggling of cultural property from archaeological sites, museums, libraries, archives, and other sites, notably by terrorist groups."
Donald Trump authorized an drone strike that killed Iran's most beloved military commander, Qassem Soleimani, the leader of the country's Revolutionary Guard––a move Iran has sworn to avenge. While some of Trump's base might be supportive of the attack, Trump is being widely condemned.
Leaders from Russia, Turkey, Germany, France, and other European countries have called the attack an unnecessary escalation that could lead to serious violence. The UK told the US that war with Iran is not in anyone's best interest, a signal tat it would be unsupportive if war broke out. The UN has suggested the attack may be unlawful.
Meanwhile, on the domestic front, Trump is being called a hypocrite. Back in 2011, Trump tweeted that Obama would start a war with Iran in order to win the 2012 election. Now, it seems as though Trump is doing the same thing.