Trump says he's been taking hydroxychloroquine, Fox commentator panics
Posted by Robert Leonard / May 19, 2020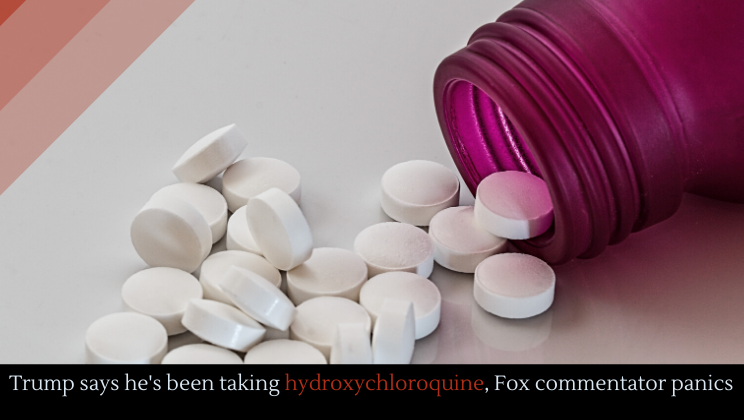 President Trump said that he has been taking hydroxychloroquine as a preventative measure against COVID. A Fox News commentator basically panicked when he heard that, warning viewers not to try that, saying:
"It was a test on patients there, and those who took it in a vulnerable population, including those with respiratory or other conditions, they died," Cavuto said. "I want to stress again: They died. If you are in a risky population here, and you are taking this as a preventative treatment to ward off the virus or in a worst case scenario you are dealing with the virus, and you are in this vulnerable population, it will kill you. I cannot stress enough: This will kill you."
Although Donald Trump is proudly touting his COVID response and claiming that the number of cases have fallen, his critics aren't so kind. In fact, some have set up a "Trump Death Clock" which keeps track of how many people have died due to Trump's mishandling of the Trump crisis. Ironically, if he really is taking this drug, he may appear on that clock himself.
Even the White House itself is not so sure about Trump's handling of the crisis. A leaked White House report shows that cases are spiking. Rural areas in particularly are suffering––ironically the root of his support––and seeing spikes in infection rates as much as 1000%.
According to an exclusive report by the Associated Press, high-level members of the Trump administration intentionally shelved and buried a CDC report with guidelines for safely reopening the country. The document, entitled "Guidance for Implementing the Opening Up America Again Framework," was meant to help business owners, educators, and faith leaders open safely. After a back-and-forth with top White House officials, the document was killed.
New York governor Andrew Cuomo says that he refuses to open up New York's economy if it means sacrificing lives, calling the calculus absurd. Meanwhile President Trump continues to push for opening the U.S. economy regardless of the cost.
A recent poll shows that citizens in all 50 states think their governors are handling the COVID pandemic better than President Trump. Considering that these governors are making the final decisions about how to proceed and thus are on the front lines for dissatisfaction, this does not bode well for Trump's reelection hopes.