Trump's approval ratings are in one-term president territory
Posted by Annie May / July 12, 2020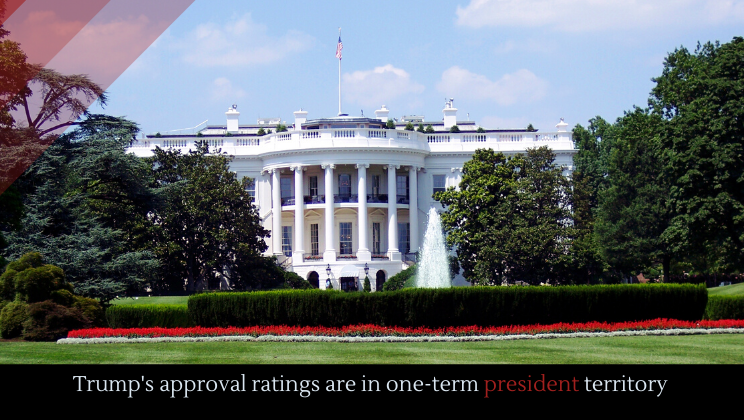 New polls show that Donald Trump's approval rating is plummeting. Some 67% of Americans disapprove of Trump's COVID response. Interestingly, Trump's support among Republicans is dropping––78% of Republicans approve of his COVID handling, down from 90% a month ago. Trump's base, white Americans without a college degree, are split: 50% disapprove and 49% approve. Americans are also deeply skeptical of Trump's handling of race relations: 78% of Republicans approve, but a whopping 91% of Democrats disapprove. Among Independents, 74% disapprove. Finally, 59% of Americans think the push to open the economy is moving to0 quickly.
These numbers are low, we're talking one-term president territory. H.W. Bush had a 38% approval rating in late June of his final year in office and Carter had a 31% approval. Trump's approval rating, as of June, was 38%.
In 500 counties with spiking COVID numbers, Trump's approval rating is dropping. As COVID sweeps around the nation in the much-anticipated second surge, Trump's numbers are going to plummet.
So all the numbers seem to be stacking up against Trump. But a recent USA Today opinion piece made a very important point: voter suppression and COVID could still sink Biden. Republican states have already proven they're willing to suppress votes when necessary. COVID is also more likely to scare liberals from the polls (especially if Trump maintains the anti-mail-in ballot stance, which itself is a form of voter suppression). So the point is: don't get addicted to polls, get out the vote, and make sure your county has a plan for safe voting.