Trump's press secretary shares anti-protest propaganda so heinous even Fox rejected it
Posted by Josh Taylor / July 26, 2020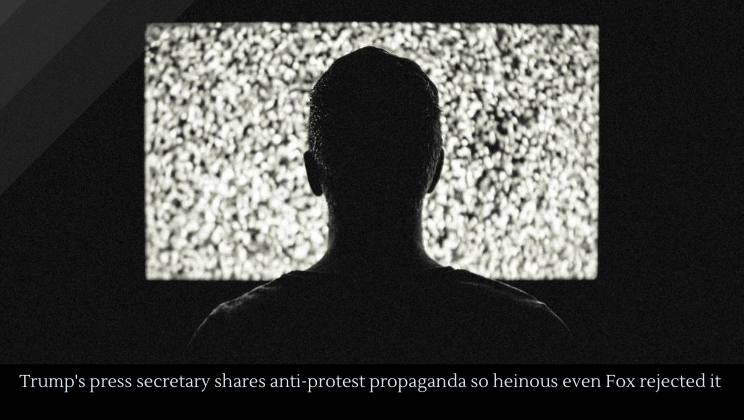 White House Press Secretary Kayleigh McEnany played a supercut of the worst moments the recent nationwide protests, including one woman wishing death on the police. The video was such a blatant attempt to cherrypick the ugliest parts of an otherwise overwhelmingly peaceful movement that even Fox News cut away from the briefing:
This is a White House press briefing. pic.twitter.com/bbzQKEX6MD

— Alexander Nazaryan (@alexnazaryan) July 24, 2020
WATCH: Fox News cuts away from White House press briefing after McEnany shows footage of Portland riots pic.twitter.com/I2H3uBPK6O

— Breaking911 (@Breaking911) July 24, 2020
The propaganda piece is part of Trump's latest push to label himself the "law and order" candidate. He has also said that he is willing to send as many as 75,000 federal agents to cities to quash "violent crime," which appears to be code for protestors. This could be catastrophic for our civil rights, since an attorney arrested by the federal police in Oregon, said police did not read her her rights, constituting a major civil rights violation. Federal police are already now in Seattle, enraging the city's mayor.
And now, federal police from the DHS are headed to Chicago, in what is beginning to seem like news reports from the Civil War. Trump already sent federal police to Portland, in what critics are calling an act of political theater: "This political theater from President Trump has nothing to do with public safety," Kate Brown, Oregon's Democratic governor, said in a statement. "The president is failing to lead this nation. Now he is deploying federal officers to patrol the streets of Portland in a blatant abuse of power by the federal government." Protestors reported being very confused about what was going on, unsure of whether the police were real authorities or right-wing extremists.