What Dave Chappelle's comedy special tells us about 2020 elections
Posted by Robert Leonard / September 9, 2019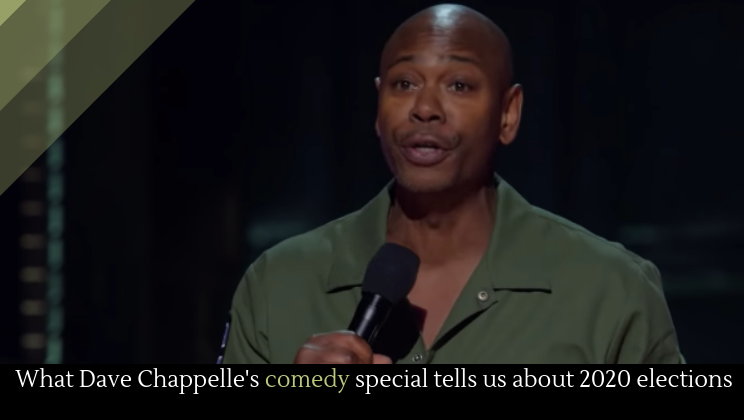 Dave Chappelle's comedy special, "Sticks and Stones" is getting absolutely blasted by critics. Audiences, by contrast, absolutely love it. Seriously, the gap between critics and audiences is massive on this special. According to Rotten Tomatoes, only 23% of critics like the special while a whopping 99% of audiences like it. This is more significant than just a gap in taste between critics and audiences, I think. These reactions tell us that the 2020 elections are going to be exactly like 2016––Trump will probably win, and the Democrats will be totally stunned when they lose.
The Atlantic says that "Sticks and Stones registers as a temper tantrum, the product of a man who wants it all—money, fame, influence—without much having to answer to anyone."
Slate compares watching the special to "dropping in on a rascally uncle who doesn't know, or doesn't care, how much he's disappointing you" by being so behind the times.
Salon goes even further by belittling anyone who likes the show as simpletons or, dare we say, a basket of deplorables: "On the whole, "Sticks & Stones" exists as a defiant design to intentionally offend large swaths of the audience Chappelle deems too thin-skinned and easily outraged, too quick to find offense, while serving up simple, low-bar yucks to anyone yearning for validation of their anti-P.C. stance."
LGBTQ comedians also weighed in and invoked the specter of the alt-right, with one saying, "when the alt-right thinks you're doing something right, you're probably wrong."
Although these sources all took difference approaches to criticizing Chappelle, they all focused on how offensive his special was, and how it plays into racism, homophobia, and transphobia. And yet 99% of audiences liked it. The media––and these sources are all quite liberal, with the possible exception of the Atlantic––once again demonstrates how out of touch it is with the average American. So when 2020 comes, and they pump up the Democrat's challenger, they're going to make it seem like Trump doesn't stand a chance. This special reminds us: that isn't necessarily the case.
More TV.