1.4 million Florida felons have right to vote restored
Posted by Josh Taylor / January 9, 2019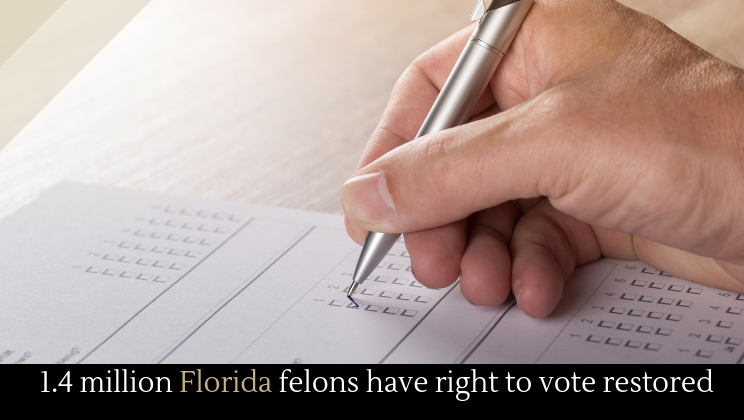 Since 1868, felons in Florida could not vote. A law was passed barring them from the civic process not for legitimate punitive reasons. Rather, it was a Jim Crow tactic meant to exclude the recently-freed slaves from the democratic process.
Technically felons could apply to vote, but due to extreme difficulties in the bureaucratic process, few felons even bothered to apply, knowing they wouldn't get approved or would make a mistake in the multiyear process that disqualified them.
Felony disenfranchisement was a critical part of the 2000 election. Al Gore lost the state of Florida because of felony disenfranchisement (in addition to other dubious electoral practices). After that election, felony disenfranchisement became more common.
After January 8, 2019 though, things are different: 1.4 millions Florida felons have had their right to vote restored:
The amendment was written to be "self-executing" so its mandatory provisions could take effect on January 8, Pearson said. After DeSantis called for implementing language for the law in December, the ACLU and others sent a 

letter

 to the secretary of state asking it for guidance on how to conduct voter registration for the newly enfranchised population.
More news.