Another Oath Keeper pleads guilty; first sentence for Jan. 6 riots handed down
Posted by Catherine Reed / June 25, 2021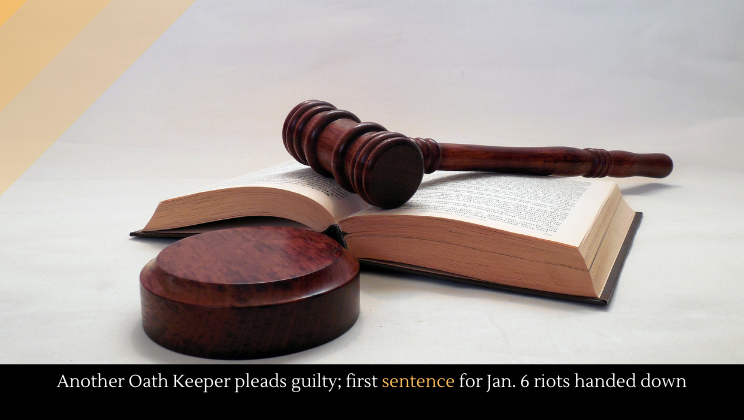 An Oath Keeper has pleaded guilty to conspiracy and obstruction of an official proceeding, making him the 14th member of the group charged in the Capitol riots. Meanwhile, a District Court judge sentenced an Indiana woman, Anna Morgan-Lloyd pleaded, to three years of probation, $500 in restitution and 40 hours of community service. The woman has apologized for her actions and claims to have educated herself by watching movies recommended by her attorney, including Schindler's List" and "Just Mercy."
As federal investigators continue to close in on those who stormed the Capitol during the January 6 riot/insurrection, those who were in Washington to support Trump but who did not necessarily "storm the Capitol" are having their lives turned inside out. Case in point: California's Kristine Hostetter, a 4th grade teacher. Once so popular that parents vied to have their students put in her class, she is now at the center of a controversy involving former students, parents, and scholar administrators. The New York Times chronicles the argument, which centers around this question: was Hostetter's presence at the Capitol a sign of radical politics––even racism?––that might spill into her classroom, or is her political life her own business?
Six Californian members of the Three Percenters––a right-wing militia––have been brought up on conspiracy charges in the most recent indictments related to the Capitol riots.
The infamous "Zip Tie Guy" has been indicted for his role in the Capitol riots. Apparently, had a stash of weapons at his home––including a sniper rifle. Four more Oath Keepers have been indicted for participating in the Capitol storming. According to the charges, the Oath Keepers were hoping that Antiafa would show up, which would give Trump an excuse to declare martial law.
Federal prosecutors have said that members of the Oath Keepers likely stored weapons at a Comfort Inn in Arlington, Virginia before the Capitol riots in order to ready rapid response teams for the insurrection. The alleged leader of the Oath Keepers was in contact with the Proud Boys and similar groups before the Capitol riots, according to a court filing. U.S. prosecutors have claimed that the Oath Keepers founder, Stewart Rhodes, was in contact with rioters before, during, and after the Capitol riots, suggesting he was directing their activities.
Additionally, an FBI investigation has uncovered communication between a Proud Boys member and an associate in the Trump White House in the days before the January 6. This is in addition to the contact between Roger Stone and a Proud Boys leader.
The FBI has called the January 6 riots at the Capitol domestic terrorism. Nevertheless, the agency stopped short of blaming a single group or ideology for the attack, since there were several different of each involved.
More news.