Beto's presidential nomination campaign is not off to a great start
Posted by Josh Taylor / March 16, 2019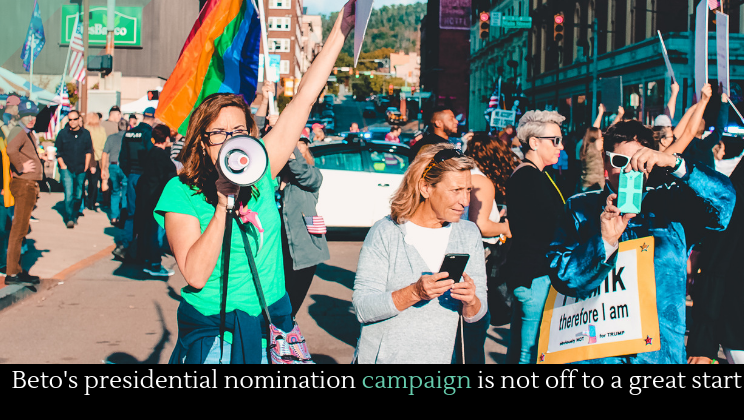 Although Beto O'Rourke's bid for one of Texas's Senate seats was ultimately unsuccessful, his electrifying campaign made national headlines. His fame was such that he believed––and many of his supporters and advisors believed––that he could be a viable candidate for the Democratic nomination for president.
Last week, he launched his campaign:
I am running to serve you as the next president. The challenges we face are the greatest in living memory. No one person can meet them on their own. Only this country can do that, and only if we build a movement that includes all of us. Say you're in: https://t.co/EKLdkVET2u pic.twitter.com/lainXyvG2n

— Beto O'Rourke (@BetoORourke) March 14, 2019
The announcement was accompanied by a Vanity Fair piece.
Almost immediately, O'Rourke came under fire for a variety of things.
First, it was his wife's silence during the announcement video. She sat quietly, gazing lovingly at her husband and smiling, for the entire video. Observers point out that the silent-wife routine does not fit into a candidate pool with powerful women leaders.
Then critics accused Beto of having a huge ego, the result of white male entitlement. Other accused him of being a "poor man's Obama."
Beto himself soon increased his own problems by making inappropriate jokes about his marriage, white privilege, and his teen hobbies. He has made public apologies and vowed to be more thoughtful. He admitted to benefitting from white privilege.
Beto was already coming off a deficit because he lost his Senate bid in the midterms. Trump already has a ready-made insult for Beto: He's a loser. But it looks like Beto may not make it very far.
More news.