Brazilian president guts rainforest while distracting world with COVID nonsense
Posted by Annie May / May 9, 2020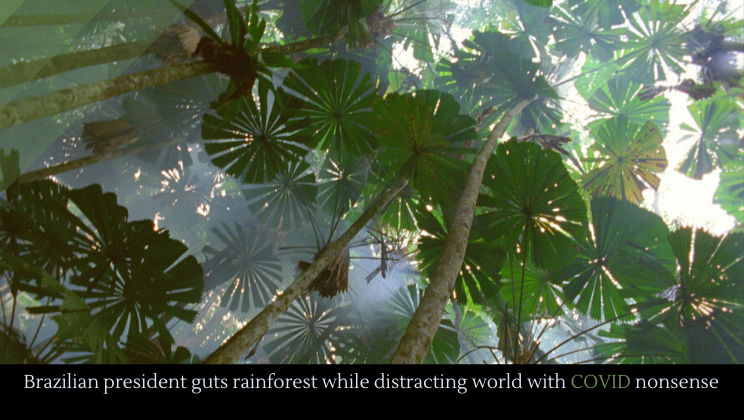 The Brazilian president has been absolutely terrible about handling COVID. He's called it a flu, refused to close anything down, and totally ignored the rest of the world. Why? Perhaps because it lets him absolutely guy the rainforest.
The he made the  crazy claim that soccer players cannot get COVID. Since the beginning of the global pandemic, he has ignored the COVID crisis. As a result, Brazil has the highest COVID contagion rate in the world.
More than 5,000 Brazilians have died from the coronavirus––that's more than China. The president doesn't care. He said, "So What?" The President of Brazil has repeatedly dismissed the novel coronavirus named COVID-19 as a "little flu," and he has recently fired the health minister who urged him to do more to fight the pandemic. The country has currently reported about 1,500 deaths, but, based on current projections, the state of Sao Palo alone is projected to have over 100,000.
If the present condition of Brazilian hospitals is any indication, the situation there will be much worse than Italy. Shocking videos show patients sick with COVID laying next to corpses of those who already died of the virus. Overcrowding is only going to get worse as the deaths skyrocket.
Currently, organized crime in Brazil has taken the virus more seriously than its president. The mob in that country as well has taken matters into their own hands, threatening to teach anyone who goes out after 8pm a "lesson."
With a skyrocketing number of deaths, Brazil will eventually face a number of potential catastrophic, state-toppling scenarios. The most obvious is total lockdown, which would cripple the economy and, still, not do enough to stop the virus which is already making its way through the population. If the government refuses to act, there could easily be riots or even a coup.
More news.