Bulletproof backpack sales spike 300% after shootings
Posted by Ivan Vaquero / August 14, 2019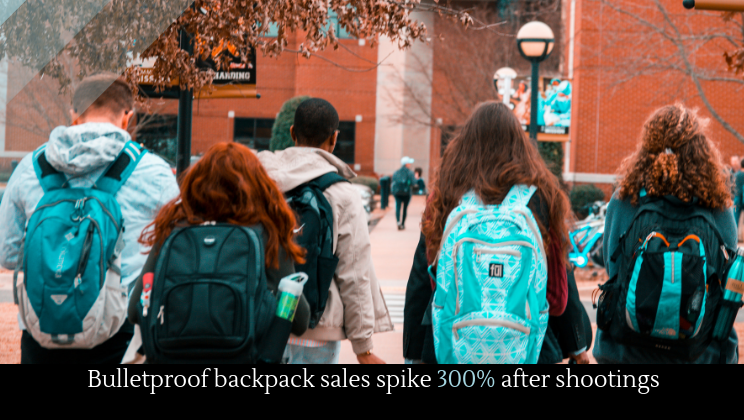 As some kind of bizarre sign of the dystopian nightmare we're living in, one Texas gun store had a tongue-in-cheek "back to school" sale at the same time that bulletproof backpacks are selling like hotcakes.
Meanwhile, a month after the New Zealand government initiated a buyback of the now-illegal military-style semi-automatic weapons, the government has already bought back 10,000 of the weapons. The Christchurch shooting set off shockwaves throughout the world, resonating particularly in the United States.
Why was New Zealand successful in removing so many guns? In the wake of Saturday's shooting in El Paso, Texas, the national discussion is focusing on white supremacy. Nineteen minutes before the first 911 call reported shots fired at a local Wal Mart, a 2,300-word anti-immigrant manifesto appeared online. The author drew inspiration from the New Zealand mosque shootings earlier this year. As a result, the FBI is treating the El Paso shooting as an act of domestic terrorism,
The connection to the Christchurch shooting is especially damning, since that killer voiced the kind of white supremacist ideas that run rampant in the United States white nationalist subculture. Indeed, critics from around the world blame the Unite States for spreading such the kind of white supremacist ideology that inspired the Christchurch killer. Donald Trump denied that white supremacy is on the rise around the world a a consequence of the United States.
Despite its widely-spread tendrils, white nationalism is rooted here at home, and sometimes in surprising places. One St. Louis police sergeant, for example, believes that there are many white supremacists on the St. Louis police force––a city that has been particularly plagued by racial incidents involving the police. The St. Louis police has declined to comment, but they have instituted trainings to reduce the number of race-based incidents.
In short, white supremacy may be one of the reasons guns are sticking around.
More news.