The California wildfires are unleashing all kinds of chaos
Posted by Josh Taylor / November 15, 2018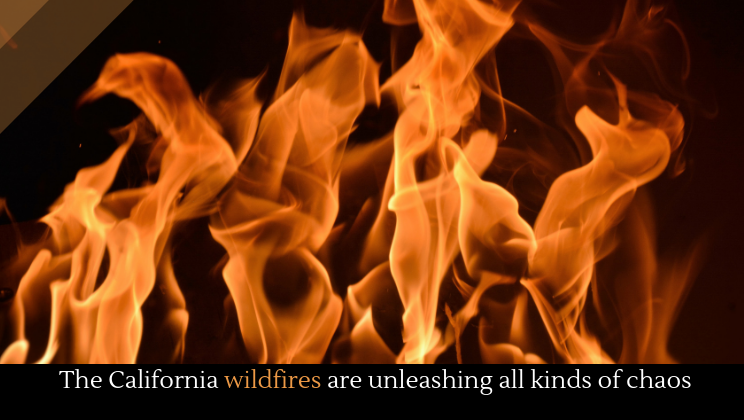 In case you didn't know, California is on fire. And it's on fire in a quite a few places. Sadly, the Camp Fire has claimed fifty-six lives (and counting), making it the deadliest in the stat's history. The state-wide death total is fifty-nine. I lived in California for most of my life, and I can't remember fire seasons as chaotic and horrific as the last two or three. If it's true that fire seasons are getting worse, that might explain why there seems to be so much chaos surrounding this year's wildfires. If you've been following the news, you might have gotten a sense of what I mean.
California is a land of contrasts: ocean and desert, mountain and valley, incredibly rich and extremely poor. The fires have made those contrasts even starker, especially the latter. According to a recent piece by Vice, California's wealthy have a private firefighting force to help mitigate the worst of the fire's damage:
AIG's Private Client Group's Wildfire Protection Unit, for instance, is made up of AIG employees who are certified through state or local authorities. In addition to protecting homes with flame retardants, these AIG employees respond to fires and map homes in real time as wildfires approach.
Keep in mind that Vice's title is bad journalism and downright shameless: "Rich People Pay for Private Firefighters While the Rest of Us Burn."Vice is vague about the nature of this "private firefighting" service. The Atlantic is much clearer:
The insurance companies AIG and Chubb have publicly talked about their private wildfire teams. AIG has its own "Wildfire Protection Unit," while Chubb—and up to a dozen other insurers—contract with Wildfire Defense Systems, a Montana company that claims to have made 550 "wildfire responses on behalf of insurers," including 255 in just the past two years. Right now in California, the company has 53 engines working to protect close to 1,000 homes.
Other critics are suggesting that we just let Malibu burn. "Make your home in Malibu, in other words, and you eventually will face the flames," writes Mike Davis. Malibu, Davis writes, was ecologically built to burn, and pretending otherwise is silly.
Victims of the wildfire are looking for someone to blame. A group of victims are already suing PG&E, even though fault has not yet been determined. Others are celebrating what blessings they do have, like the miraculous survival of a Model T:
When he is finally allowed back in, Mr. Westbrook will find a neighborhood in ruins. Houses are gone, trees stripped, power lines flattened. But there are odd patches of normalcy, testaments to the unpredictability of a wildfire. Down the block, an old Chevrolet El Camino was untouched. A festive lawn decoration in Mr. Westbrook's yard survived. And so did the Model T.
More news.