China ramps up bellicose rhetoric, threatening to sink US aircraft carriers
Posted by Josh Taylor / January 5, 2019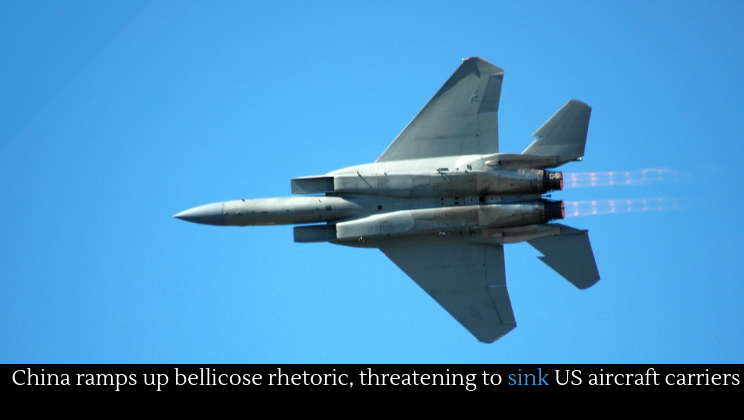 China's quiet Cold War against the United States is heating up. Rear Admiral Lou Yuan of the Chinese Navy recently spoke to the Military Industry List summit, saying that the continued disputes over the South China Sea could be solved by sinking two US aircraft carriers. Yuan believes that the trade war between the two countries is part of escalating tensions and signals a "strategic issue."
The previously cited article continues: "In his speech, he said there were 'five cornerstones of the United States' open to exploitation: their military, their money, their talent, their voting system — and their fear of adversaries."
Yuan believes that sinking an aircraft carrier would lead to too many casualties for the US to stomach: 10,000 sailors. If that happened, he said, "We'll see how frightened America is."
The Navy Times also points out the threat to Taiwan:
If the US naval fleet dares to stop in Taiwan, it is time for the People's Liberation Army to deploy troops to promote national unity on (invade) the island," [Yuan] said. "Those who are trying to stir up trouble in the South China Sea and Taiwan should be careful about their future.
A retired Chinese Lt. General reiterated this pint:
The PLA is capable of taking over Taiwan within 100 hours with only a few dozen casualties. A possible military conflict may take place in Taiwan soon. (But) As long as the US doesn't attack China-built islands and reefs in the South China Sea, no war will take place in the area.
China's language led the Washington Examiner, a conservative paper, to opine
Ultimately, this editorial is another warning for the U.S. — a warning that challenging China's island imperialism and its feudal economic strategy is only going to become more complicated. And while growing allied support for U.S. actions in the Indo-Pacific are positive, in the end, China will only be deterred by America. We must seek a more constructive relationship and resist China's defining challenge.