More and more companies, locations requiring COVID vaccines
Posted by Josh Taylor / August 26, 2021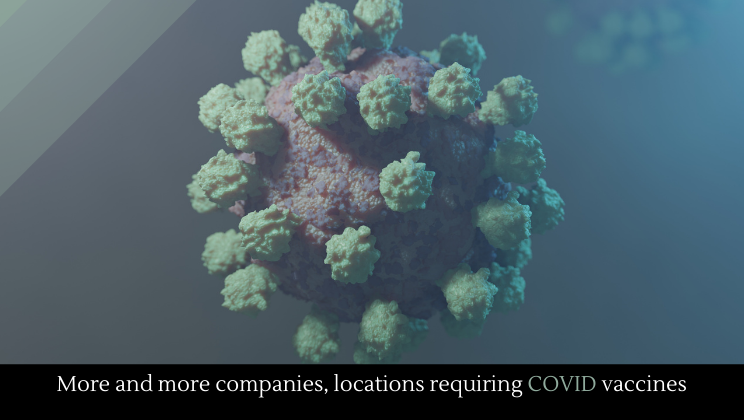 Masks and vaccines will be required in more places in the coming months, as Delta surges around the country. CVS is requiring all nurses, pharmacists, and corporate employees to be vaccinated. Anyone entering a Goldman Sachs office will likewise have to be vaccinated. Likewise, LSU will require either proof of vaccination or a negative COVID test.
Even though Fox News hosts have harshly criticized the concept of vaccine passports and claimed asking about vaccine status constituted a violation of privacy, the media company is now demanding that all employees disclose their vaccination status.
Fox News is merely joining a host of other companies and institutions requiring masks or vaccination status. United has become the first domestic airline to require its employees be vaccinated. Major tech employers, including Google, Facebook, and Netflix, are requiring proof of vaccination of employees. Apple is requiring both customers and employees to wear masks, regardless of vaccination status. Similar things are happening outside the tech world. Disney World, for example, will require guests to wear masks indoors.
Masks are being required in even more places as the COVID virus resurges thanks to the Delta variant. San Francisco and neighboring counties have reinstated mask mandates, and McDonald's throughout the U.S. will also require masks. Upscale fitness establishments Equinox and SoulCycle are set to proof of vaccination by September.
The rapid spread of the Delta variant has forced the United States––indeed, the world––into restrictions similar to those enforced mid-pandemic. Nevada has issued an emergency order in 12 of 17 counties requiring everyone––vaccinated or unvaccinated––to wear masks.
Some San Francisco bars are requiring proof of vaccination for entry. Anthony Fauci has said that the CDC is considering recommending that everyone wear masks, regardless of vaccination status, as cases in the United States continue to rise.
More news.