Despite bellicosity, Putin stops short of declaring war on Victory Day
Posted by Annie May / May 10, 2022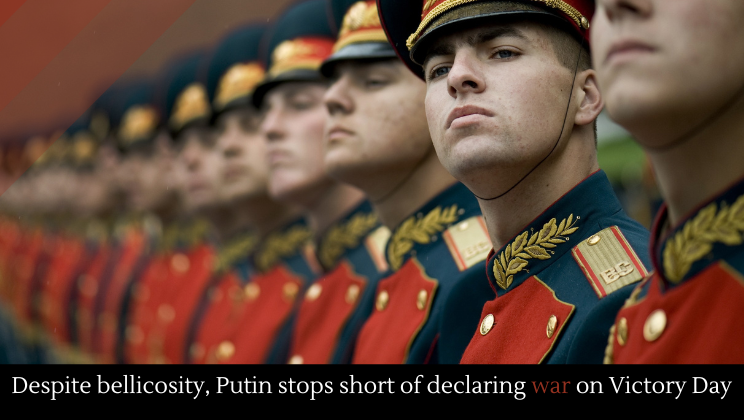 Despite Putin's rabid bellicosity in recent months, he stopped short of declaring war on Ukraine during his Victory Day speech.
Russia has denounced Israel, claiming it supports a "neo-Nazi regime in Ukraine." Russian state TV has also aired CGI clips of nuclear weapons blowing up Ireland for its support of Ukraine.
A Russian spy plane has violated Swedish airspace as the latter contemplates joining NATO.
Russia has warned that it will deploy nuclear missiles if Finland and Sweden join NATO after moving heavy weapons systems to the border of Finland just hours after warning it not to join NATO.
Russia has sent in its infamous neo-Nazi mercenaries to the Ukraine, belying its claim to be "denazifying" the country.
Japan has joined the growing number of countries to condemn Russia's war crimes in the Ukraine. As Russians retreat from Ukrainian cities, more and more innocent civilians are being found dead. Ukrainian President Zelensky is still fighting for peace, but he has pointed out that Russian atrocities complicate peace talks.
According to the European Union, Russian troops killed 300 civilians in Ukrainian town of Bucha. As a result, the United States is considering further sanctions against Russia.
Biden has condemned Putin in harsh, personal terms, saying, "For God's sake, this man cannot remain in power." He emphasized, however, that he is not condemning the Russian people. The Kremlin lashed back, saying Biden has no authority to decide who is in power in Russia.
More news.