Did Mueller advocate for impeachment in his press conference?
Posted by Catherine Reed / May 30, 2019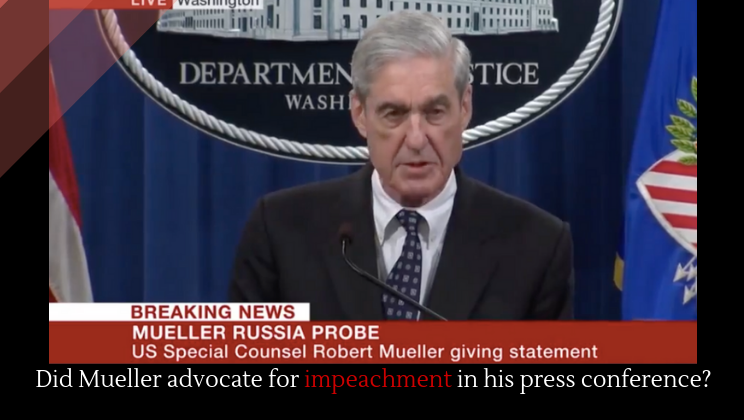 Rarely has a press conference in which so little was said been interpreted to mean so much. Robert Mueller's press conference essentially reiterated his report, but nearly every media outlet is suggesting that Mueller's statement was actually his way to encouraging Congress to begin impeachment proceedings.
Slate, for example, argues that Mueller was speaking (almost) directly to Nancy Pelosi. CNN highlighted that Mueller said if his team was confident enough to exonerate Trump, he would have said so––but he didn't. British news sources believe that Mueller was telling the world that Trump is a criminal––once again highlighting the confidence line.
It's not just media, though. House Judiciary Chairman Jerry Nadler issued a statement after Mueller's statement: "Given that Special Counsel Mueller was unable to pursue criminal charges against the President, it falls to Congress to respond to the crimes, lies and other wrongdoing of President Trump – and we will do so. No one, not even the President of the United States, is above the law."
Presidential primary candidate Pete Buttigieg likewise tweeted, "This is as close to an impeachment referral as it gets. Robert Mueller could not clear the president, nor could he charge him — so he has handed the matter to Congress, which alone can act to deliver due process and accountability."
More politics.