Dominion Voting threatens to sue conservative news outlets
Posted by Thomas Bush / December 26, 2020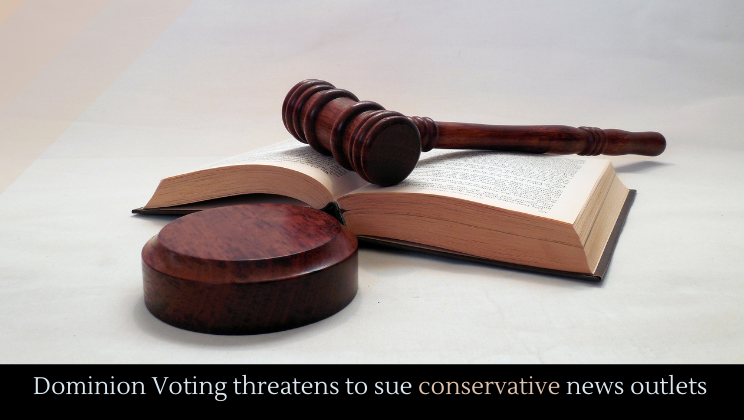 Dominion Voting Systems has been a consistent target of Donald Trump's election conspiracy theories, and they are fed up with it. As a result, they've sent 21 letters to the White House, Fox News and several of its hosts, and more.
After Fox News hosts recited a host of nonsensical election fraud claims, voting technology company Smartmatic sent the network what lawyers call a "nastygram." To avoid being sued, Fox was forced to air a package debunking its hosts own claims about election fraud.
The Trump-Fox-Cowboy Capitalism machine seems to be breaking down. MyPillow CEO has accused Fox News of conspiring to overthrow Trump, signaling an end to the inherent connection between Fox News of unbridled capitalism. This is only the latest sign of trouble in what has been a rough month for the Trump-Fox relationship.
According to a recent Fox News poll, 55% of Americans believe the country is worse off today than it was four years ago. 42% of respondents say they think Trump will go down in history as one of the worst presidents ever.
Last week, Trump angrily tweeted that Fox News is "virtually unwatchable," directing his followers to more fringe outlets.
Troubles having been brewing since the election. Fox News interrupted Kayleigh McEnany, Trump's Press Secretary, in the middle of a tirade about alleged voter fraud––a tirade with no evidence. The Fox News host said, "Whoa, whoa, whoa. I just think we have to be very clear: she's charging the other side as welcoming fraud and illegal voting, unless she has more details to back that up, I can't in good countenance continue to show you this," as he interrupted her.
Even if Fox News abandons Trump entirely, don't expect him to leave quietly. A former director of the CIA is worried that Trump will rile up his base and possibly drive them to violence. Even though his aides tell him the legal assaults will be useless, he intends to throw every lawsuit at the wall in the hopes that one sticks.  Weirdly, Trump seems to be pretending that everything is normal. He's tweeting that he's won the race, and he spent Saturday golfing, like he did for most of his presidency.
Although we still don't know who won the 2020 election, one thing is clear: it's a close call, and our country is more divided than ever. Trump inspired almost unbelievable dedication in his supporters and zeal among his enemies. The sheer effort anti-Trumpers put into this election shows their intensity. A Harvard poll indicates that young voters' turnout broke records this year. These younger people are largely pro-Biden, and their large numbers point to their zeal. The pro-Biden  Texas Democrats pushed the vote hard, trying desperately to turn the state Blue for the first time in 44 years. One of the biggest demographic hitting the polls this year were, unsurprisingly young voters.
More news.