While Donald Trump Jr. falls for fake tweets, Republicans turn on Trump
Posted by Catherine Reed / June 4, 2020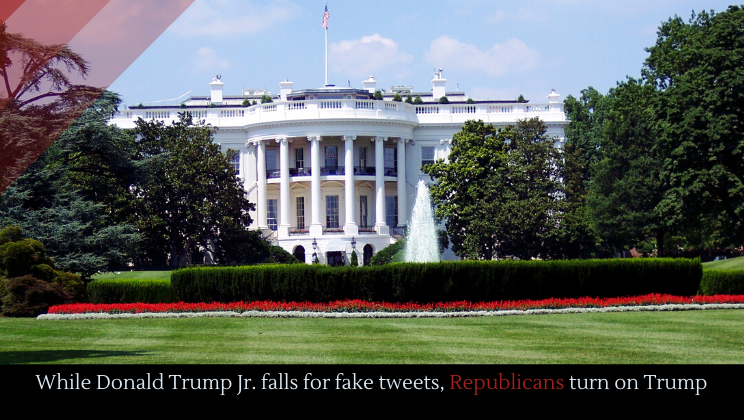 There's a growing rift in the Republican Party. Once upon a time, the vast majority of the GOP supported Trump, but in the wake of his mismanagement of COVID and his downright disastrous response to the murder of George Floyd, cracks are beginning to form.
Exhibit A: Donald Trump Jr. shared on Twitter what he thought was a tweet by "Antifa," a molehill that Fox News, Trump, and William Barr have turned into a political mountain. Unfortunately, that tweet was by a white nationalist group aiming to stoke racial violence in the US. So either Donny Jr. is a doofus and fell for the trick, or he knew what he was doing. Neither option is great.
Exhibit B: By contrast several prominent Republicans are speaking out against the kind of fear and hate mongering the Trumps engaging in. Former President George W. Bush, for example, released a statement that contrasts starkly with Trump's response. Mike Mullen, Trump's former Chief of Staff, has also condemned Trump in an Atlantic Op-Ed.
Protests over the killing of George Floyd have escalated in the past few days, spreading to about 40 U.S. cities and even cities around the world. By and large, the protestors are demanding one thing: a deescalation of police brutality by demilitarizing the police. And how does Trump respond? By threatening to call the military in if state governors don't get things under control. Trump called the governors weak in a call, goading them on to further violence.
The protests are likely going to continue spreading, partly because of poor federal leadership on the issue of police violence against the black community. Trump's response to the protests has probably exacerbated them. The mayor of Atlanta has even begged Trump just to stop talking altogether––silence would be better than his inflammatory ramblings. Cornel West has said that "we're witnessing the collapse of the legitimacy of leadership."
More news.