Dutch farmers beg people to stop trampling tulips in their quest for the perfect selfie
Posted by Annie May / April 29, 2019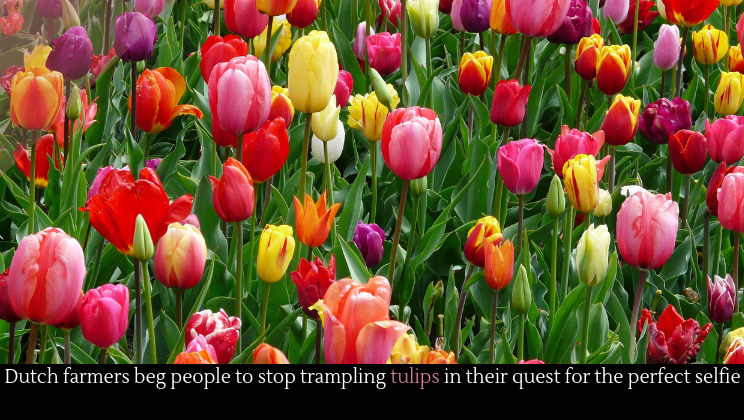 The Dutch countryside is covered with fields of beautiful flowers. They have long been a tourist attraction, but in the age of every-millennial-has-a-camera-phone the tourists have gotten a lot more aggressive. Recently, tourists caused thousands of euros worth of damage to tulips.
One farmer said that thousands of people flock to his farm daily to take photos, and in one instance they did 10,000 euros worth of damage. He's asked people to stop trampling his flowers.
The Dutch are not the first to get fed up with social media users selfishly seeking the perfect selfie. The owner of the White Banana Beach Club, a small cocktail bar with two "luxury dorms." Gianluca Casaccia, has been receiving an increasing number of requests from so-called social media "influencers" asking for free room and board in exchange for content. Recently, Gasaccia received an email from yet another influencer. The email, like so many others, read along the lines of, "I'm coming from the 25th to the 27th. We need three beds and food and accommodation."
Meanwhile, in California, the superbloom has attracted a whole host of influencers who do whatever it takes––including damaging the wildflowers––to get their photos. But other social media users have begun shaming them.
More news.