Elephants trample rhino poacher to death, lions eat corpse
Posted by Josh Taylor / April 8, 2019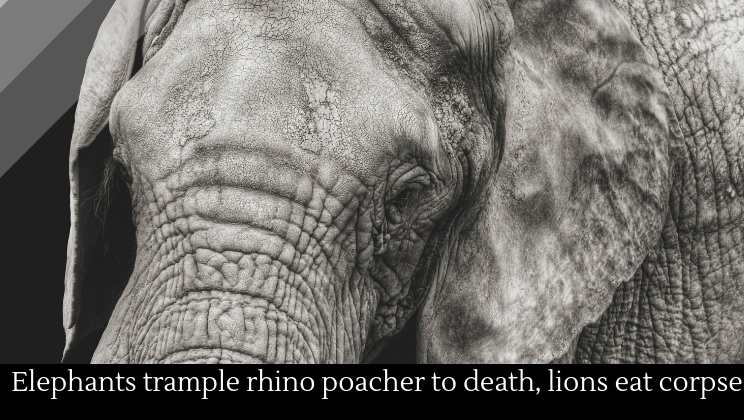 A man who was allegedly attempting to hunt rhinos illegally was trampled to death by elephants in Kruger National Park, South Africa last week. "According to the family of the deceased, they were called by his accomplices who notified them that their relative had been killed by an elephant while they were in the KNP to poach a rhino on Tuesday evening," according to a spokesperson.
After watching their friend be trampled by elephants, the other hunters fled. The man's remains were then eaten by lions––everything except his skull and a pair of pants. Rangers found the evidence after the victim's family pleaded for the return of his remains.
Unsurprisingly, the internet is celebrating this as sweet poetic justice for a criminal, but a few––especially on Reddit––express sympathy for the victim, who was likely poor and used hunting as a means of feeding his family. Hopefully, this man's death will serve as a reminder to poachers that what they do is not only illegal, but also incredibly dangerous. Similarly, perhaps the internet outrage machine can turn its focus on the systematic poverty that drives people to violate anti-poaching laws, which will likely do more to reduce poaching than all the grave-dancing they can muster.
More news.