Former ethics lawyer says Trump committing "felony bribery"
Posted by Josh Taylor / November 1, 2019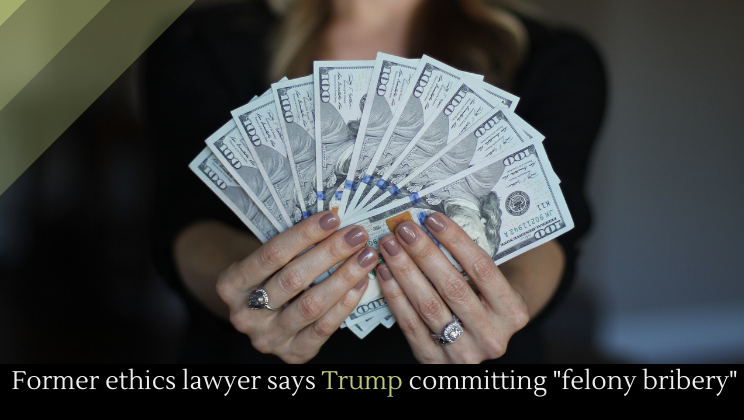 Richard Painter, George W. Bush's chief White House ethics lawyer, said that Donald Trump seems to be committing felony bribery by giving top Republican senators fundraising money ahead of the impeachment proceedings. The argument could be made––fairly easily––that Trump is attempting to garner favor among the very senators who will act as his jury during the Senate's impeachment hearings.
Painter tweeted: "This is a bribe. Any other American who offered cash to the jury before a trial would go to prison for felony bribery. But he can get away with it? Criminal."
Trump supporters will claim that impeachment won't reach the Senate, and thus this can't be a bribe. But Nick Akerman, a prosecutor who investigated Nixon, has claimed that the evidence against Trump is even clearer and more damning than the evidence was against Nixon. Specifically, Akerman pointed to the increasing number of Trump aids and officials turning on him.
"This is a situation where you've got a lot of people who are career people, extremely smart people who certainly don't want their reputations smeared. Trump had to use these foreign services people and professionals. He didn't speak Ukrainian and Russian. He couldn't communicate his threat without these people. He was forced to use people whose loyalty was to the U.S. government and Constitution and not to him," Akerman said. That may spell the end of Trump's presidency.
Trump's plummeting poll numbers won't help, either. According to a recent Fox News poll, Donald Trump's disapproval rating is a whopping 55%. That's three points higher than the average disapproval rating for Fox News poll, which is saying something since Fox News is the state media of Trumplandia.
The latest polls indicate a major shift in public opinions about Trump's impeachment. A majority of Americans now support the proceedings. 58% of Americans think the impeachment proceedings are correct––including 80% Democrats and 30% Republicans. A whopping 49% of Americans believe the House should call for Trump's removal from office. What's worse for Trump: GOP support for impeachment is on the rise.
More news.