Fox & Friends host blasts Trump for bungled stimulus talks
Posted by Robert Leonard / October 8, 2020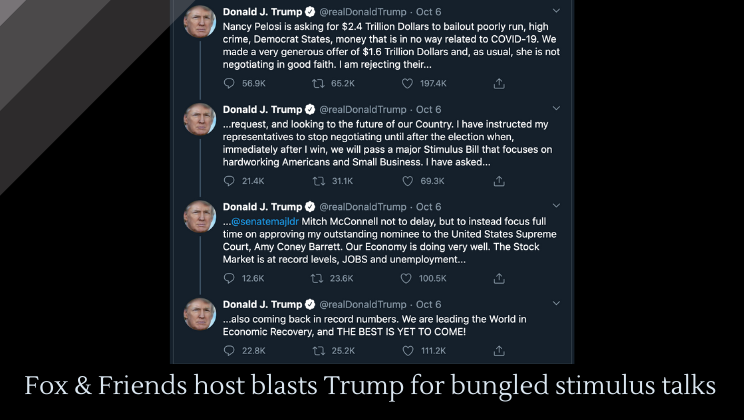 You know the president screwed up when Fox & Friends takes him to task. Trump's nighttime tweet canceling all talks about a stimulus package sent everyone into a panic, leading to his Fox & Friends for blasting him for losing people "a lot of money."
President Donald Trump has a very strange relationship with Fox News. He seems to think the network owes some kind of personal allegiance to him, and he even went so far as to scream at Fox owner Rupert Murdoch for "unfair" coverage. Nevertheless, Trump is addicted to Fox news. Apparently he goes to bed watching Fox News and wakes up only to watch more.
Once, during the summer, Fox News cut away from Trump during a particularly boring, rambling COVID briefing in order to air the Biden-Harris campaign debut.
This isn't the first spat Trump had with the network, though. At the end of last year, Fox News host Chris Wallace, who moderated the first presidential debate, declared war on Trump. That's was because he thinks that Trump declared war on him, first.
"I believe that President Trump is engaged in the most direct sustained assault on freedom of the press in our history," Wallace said, "He has done everything he can to undercut the media, to try and delegitimize us, and I think his purpose is clear: to raise doubts when we report critically about him and his administration that we can be trusted."
More news.