France will invite architects from around the world for Notre Dame rebuild
Posted by Robert Leonard / April 18, 2019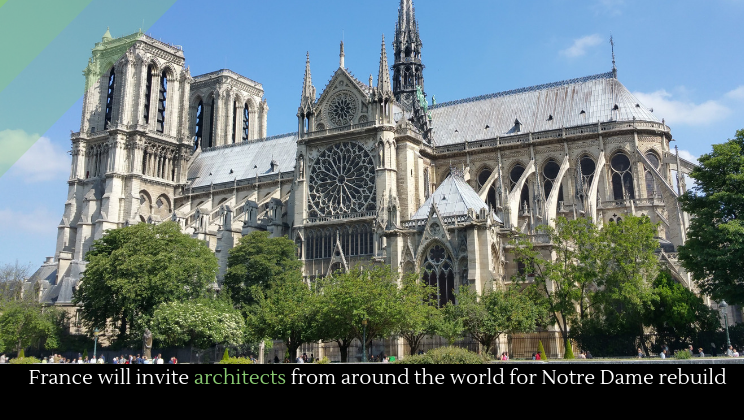 French Prime Minister Edouard Philippe has announced that France will invite architects from around the world to submit designs for a new spire to replace the one that collapsed in this week's fire at Notre Dame cathedral in Paris, France. He hopes to build "a new spire that is adapted to the techniques and the challenges of our era."
Thankfully, the building survived the fire and is largely intact––though officials say it was mere minutes away from complete destruction. Efforts for the rebuild are already underway. President Emmanuel Macron hopes that reconstruction will be complete in five years, though experts warn repairing the damage could take decades.
The spire in question was not original to the 13th-Century cathedral, but was added in the 1800s during a restoration. Some wish to recreate the spire exactly as it was. Francois-Henri Pinault, French billionaire, has pledged one million euros to the cause.
The landmark was undergoing renovations, which may have been the cause of the fire. It took nearly 500 firefighters some five hours to contain the blaze, which at times illuminated the skyline spectacularly, leading many onlookers to believe the cathedral would not survive. Besides the spire that was destroyed, 2/3 of the roof was also destroyed.
More news.