French ski resort closes permanently
Posted by Thomas Bush / September 16, 2023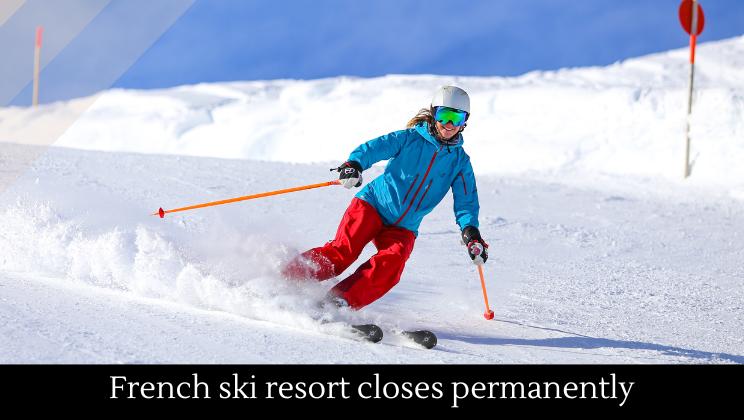 A French ski resort is closing forever because of lack of snow.
The UN is calling for dramatic changes in light of the fact that this summer was the hottest ever recorded.
Climate activists have begun protesting yachts, jets, and golf courses for their inordinate consumption.
Norway will spend $6 million/year stockpiling grain, citing pandemics, climate change, and war.
Emperor penguin colonies are suffering huge losses—and seeing no new chick births—as ice melts in Antarctica.
A hurricane is barreling towards California. It is set to be a tropical storm by the time it arrives on the southern coast, and it will be the first to strike the state in over eighty years.
According to NASA and NOAA, July was earth's warmest month "by a long shot."
Forests are losing their ability to hold carbon, creating a cycle of global climate change.
Oceans have reached the hottest temperature ever recorded.
Iran has shut down for two days because of "unprecedented heat." Meanwhile, temperatures in Phoenix have hit above 110º for 30 straight days. Nevertheless, false claims about the relationship of July's heatwave to climate change are spreading online even though July is likely to be the hottest month ever recorded. More than 10,000 heat records were broken that month worldwide.The Earth has seen temperature spikes like it hasn't seen in 125,000 years this past July. The world is in uncharted territory as records continue to fall, and 2024 is expected to be even hotter.
According to a new report by an international group of scientists, the recent heat wave would have been "impossible" without climate change.
Almost all major Italian cities are on red alert as the worldwide heatwave continues.
The US and China have both seen extreme heat as a worldwide heatwave continues. Europe is facing a massive heatwave. Sixteen Italian cities are on red alert as a heatwave sweeps Europe. Earlier this summer, Earth set a record for the hottest day ever  four days in a row.
The CEO of Shell has warned against cutting oil production. He says this following July 3rd, the second hottest day ever recorded, and July 4th, the hottest day.
This June was the hottest ever recorded in the UK.  Additionally, temperatures in the oceans around the UK and Ireland have spiked.
Flight turbulence is getting worse and worse as the planet heats up. And it looks like the next year will be particularly bad: scientists confirmed that El Niño has begun, which will likely make 2024 the world's hottest year on record.
According to a top scientist, the world's battle to stop melting glaciers and rising sea levels has been lost.
Air quality has gotten dangerously bad in parts of the Northeast following the Canadian wildfires, putting tens of millions of people at risk.
Atmospheric CO2 measured in Hawaii has reached new heights.
The increase in solar panels may lead to a waste problem. The los of black sea urchins is threatening the Gulf of Aqaba coral reef. In 2009, a group of scientists listed nine thresholds that, if crossed, would make earth inhabitable. We have crossed seven of them. The world is on the path to producing more solar power than oil power, according to recent data.
France is banning short-haul flights in order to curb emissions. Brazil has used more green power than at any other time in the past decade. Wind is the main source of power for the first time.
A drought has forced southern France to ban garden pools. Spain just experienced its hottest April day on record, with temperatures reaching between 10-15ºC above normal. Rapidly-rising ocean temps are threatening a more extreme El Nino.