German intelligence reveals China asked WHO to cover up COVID outbreak
Posted by Catherine Reed / May 10, 2020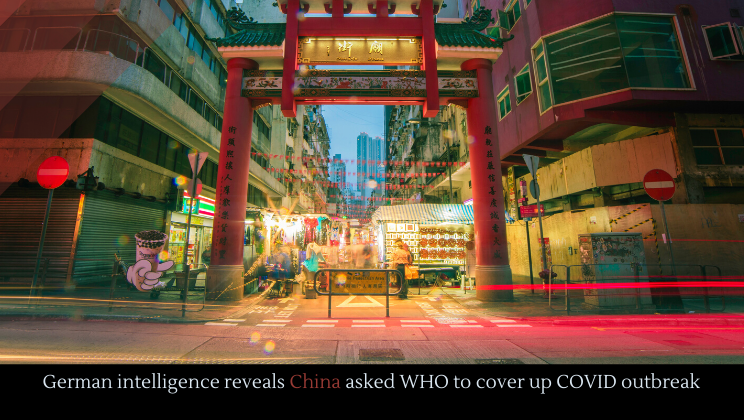 German intelligence has revealed that China asked the World Health Organization to cover up news of the coronavirus outbreak in Wuhan. China's refusal to admit the outbreak cost the world a full six weeks, which could have led to a radically different unfolding of the COVID outbreak and saved tens of thousands of lives.
While China is using misinformation and PR campaigns to rewrite the story of the novel coronavirus in order to make itself the hero of the whole debacle, Secretary of State Mike Pompeo has said that China will "pay a price" for COVID's impact.
Although the China first tried to hide the outbreak, it is now flooding the world and its own people with information. Tons and tons of information. All of it, of course, nonsense. The aim is to create confusion to the point that China itself looks good.
It's no wonder that China wants to spin the story. The damage caused by this virus has been nothing short of catastrophic––like, disaster movie level catastrophic––and China's reputation will undoubtedly suffer.
Internal Chinese documents agree. According to a recent report, China is worried about an international backlash over the COVID pandemic similar to the backlash that occurred after Tiananmen Square.
COVID is ravaging the economy, and every week things get worse indicate a worse backlash for China. The latest unemployment numbers are in, and the 6-week total has now reached 30.3 million people. According to a New York Times investigation, the numbers may be much higher.
Last week, the number of Americans applying for unemployment claims doubled from the week before, and that week was already a record-setting week!
In the continuing economic fallout of the COVID epidemic, the S&P 500 is set for its worst first quarter since 1938. The U.S. government is passing economic stimulus packages, but all is not tell––the Post Office may have to close if it doesn't get funding by June, and American Airlines has asked for $12 billion.
More news.