Growing measles outbreak proves anti-vax movement is something to worry about
Posted by Josh Taylor / January 23, 2019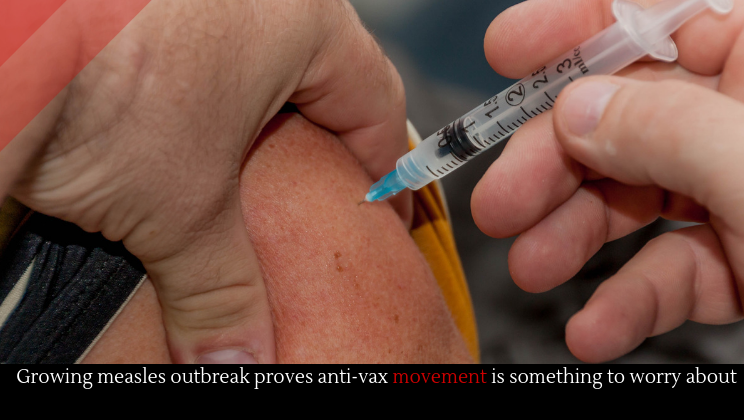 A few months ago, I made the claim that, while dangerous, the anti-vaccination movement is too small to be a real threat:
You might even start to worry that measles is going to make a comeback because of people like this. The news coverage fans those flames Once again, Washington Post is guilty of using clickbait titles to drum up clicks. Note this hair-raising line:

"In Camas County in southern Idaho, nearly 27 percent of the kindergarten population opted out of childhood vaccinations in the 2016-2017 school year, according to the study. Generally, the 10 counties with the highest exemption rates have fewer than 50,000 people and are in rural areas."

What WaPo didn't make clear was just how tiny the population of Camas County is. As of 2010, there were 326 families. So if every single family had a kindergarten aged child, that would mean 88 kids weren't vaccinated––that's extremely unlikely, though. The census reveals that in 2010 there were only 63 kids under five years old, so only a small fraction of those kids would actually be kindergarten aged. Let's assume there are 30 kids that fit the bill. That means there are about eight kids who are unvaccinated when the survey was conducted. Keeping in mind that this is a rural county, it's also possible that vaccines simply had not happened yet, and when the kids advanced in grade school they would be required to get vaccinated. Twenty-seven percent seems a lot scarier than eight kids with some qualifications, though.
Well, I was wrong. Perhaps even spectacularly wrong:
Public Health officials in Clark County announced Monday the measles outbreak grew to 22 confirmed cases, with three more suspected, and they revealed three more possible exposures locations.
The World Health Organization has even called lapsing vaccination numbers a global threat. So the moral of the story is pretty simple: the anti-vaccination movement is an issue.
More health.