Head of Facebook news cofounded website that hosts anti-Warren op-eds
Posted by Josh Taylor / November 13, 2019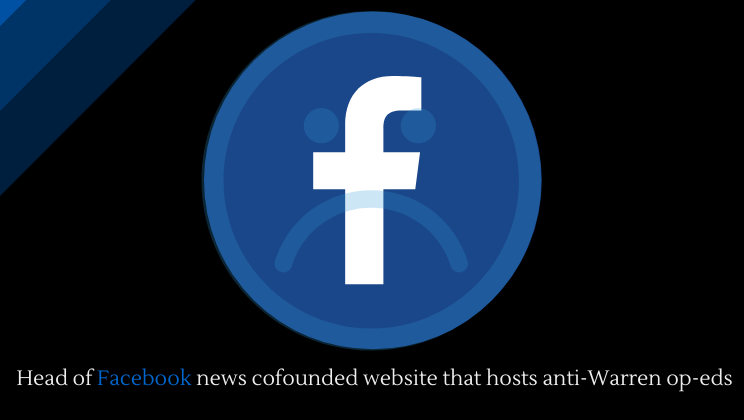 We all need to pretend that Facebook isn't a political company, because it is and it has a serious political agenda.
Many people are unwilling to admit this.CNET recently said not to buy a Facebook product because the company's privacy abuses were terrible and it blatantly ignores the havoc its political ads cause. The comments on the article were overwhelming: keep "politics" out of tech reviews.
Despite the thousands of pages of leaked documents that reveal how brutal Facebook's business tactics have been, how they abused user data, and how they generally do what they want, people continue to stand behind Facebook.
But as time passes, it is becoming increasingly clear that Facebook is not only biased, but it is also actively working against Elizabeth Warren. Zuckerberg was recorded calling Elizabeth Warren's campaign an "existential" threat to Facebook. Zuckerberg also met with Donald Trump, after which Facebook announced it would no longer fact check or otherwise censor political content. Coincidence? Warren doesn't think so. In a series of tweets, she called out Facebook for its political bias.
Facebook's attempt to weed out the toxic, fake news articles with its News feature is further evidence of its bias. The head of its news partnerships, Campbell Brown, cofounded a website that publishes anti-Warren ads. Facebook also faced backlash after it included the infamous news site Breitbart on its new "high quality" news tab. That news outlet has been widely criticized for posting extremist, "alt-right" content and conspiracy theories.
More about tehttp://alltop.com/techch.