Heineken renews commitment to leave Russia
Posted by Jimmy Cooper / March 8, 2023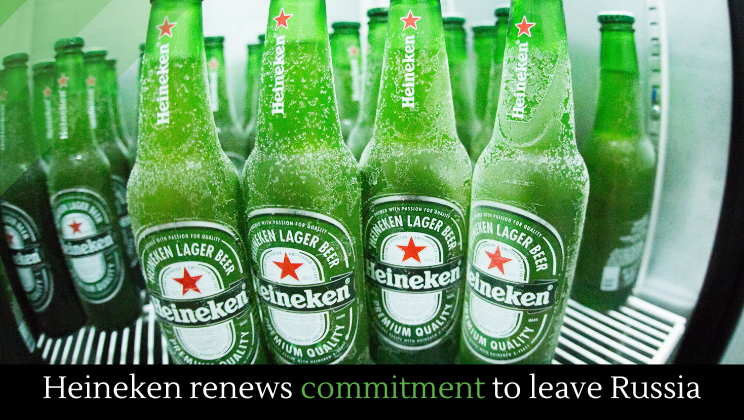 Facing criticism for failing to leave Russia, Heineken has renewed its promise to go.
Reports indicate that Volkswagen and Mercedes-Benz are looking to leave Russia.
Lego has shut down its store in Russia, laying off 90 employees.
Russia is struggling as business continue to leave. Russia's replacement for McDonald's, which left Russia for good after doing business there for 30 years, is suffering from mold and bugs, according to reports. Most recently, they've had to pull french fries from the menu after the country has run low on potatoes.
The German industrial giant Siemens is planning to leave Russia after almost 170 years, as a result of the Ukraine war.
The Russian finance ministry has admitted that western sanctions are threatening the country with economic collapse.
Vladimir Putin's $989 million megayacht has been seized in Italy. In terms of such seizures, Chuck Schumer said that the United States will sell seized Russian oligarch's assets to benefit the Ukrainian war effort.
The Queen of Spain has included traditional sausages and a victory message alongside a shipment of grenades meant to help the Ukrainian war effort. And,  despite initially refusing to do so, Germany has changed course and is sending anti-aircraft weapons to Ukraine. In fact, more and more countries have begun sending heavy weapons to Ukraine, including Belgium and the United Kingdom.
American startup companies are donating drones to Ukraine over fear of Chinese drones being sent to the country. Ukrainian President Zelensky has expressed relief that allies are finally sending the weapons they were promised.
The United States is set to start training Ukrainians in operating howitzer artillery According to Karl Nehammer, the Chancellor of Austria and who spoke with Putin,  reported that Putin believes he i s winning the war.
The Swiss have frozen $8 billion in Russian assets to punish the invasion of Ukraine.
New United States sanctions against Russia include Putin's adult children. The sanctions come following accusations of war crimes. As Russians retreat from Ukrainian cities, more and more innocent civilians are being found dead. The first round of accusations were made by the European Union, which claimed that Russian troops killed 300 civilians in Ukrainian town of Bucha. As a result, the United States is considering further sanctions against Russia.
Biden has condemned Putin in harsh, personal terms, saying, "For God's sake, this man cannot remain in power." He emphasized, however, that he is not condemning the Russian people. The Kremlin lashed back, saying Biden has no authority to decide who is in power in Russia.
The United States has formally declared that the Russian military has committed war crimes in the Ukraine.
The UK says there is strong evidence that Putin is responsible for war crimes in Ukraine. The United States Senate has condemned Vladimir Putin as a war criminal.
NATO has brought together 30,000 troops and 50 warships in Norway amid the rising tensions in the region4
More news.