Hong Kong protest song becoming unofficial national anthem
Posted by Catherine Reed / September 15, 2019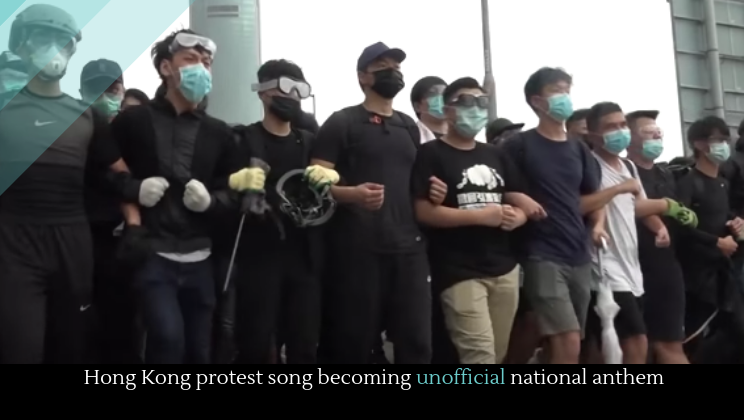 A recently-released protest song, released on YouTube a few weeks ago, is quickly becoming an unofficial national anthem in Hong Kong. The song speaks of freedom, liberty, and democracy. And, as you can hear below, it's pretty rousing––so rousing, in fact, that people are spontaneously singing it in public places, risking the wrath of Beijing.
The protests in Hong Kong are inspiring Beijing to employ increasingly despotic measures. Police in Hong Kong have recently started adding blue dye to the fire hoses they use to spray the protestors. The dye sticks to the protestors, making them easy to find and arrest later. Protestors are responding to the police's abuse by ramping up their own activities. They recently shut down train service.
The Chinese government arrested Hong Kong protest leaders in order to stifle weekend rallies. The protestors have all agitated for Democracy. The Chinese media has said that Hong Kong protestors are "asking for self-destruction." They also released a video of the Chinese military amassing near the city's border. Despite the appearance of democratization, the China is still very much an autocracy.
China has very few independent thinktanks––and now it has one fewer. The Unirule Institute of Economics has been declared "unregistered and unauthorised" by the Chinese government, a sign of the government's rising authoritarianism.
The Chinese government, in its quest to wipe out the Uighur population, is now arresting Uighur people outside of their own country. Reports suggest that they are currently arresting Uighur people in Egypt, where China is investing billions into infrastructure.
Recently, the Chinese government has ordered Chinese restaurants to remove Arabic language signs and Muslim symbols. Reuters reporters contacted 11 different Muslim-owned restaurants, all of whom told reporters that the government demanded removal of the signs.
The United States has already condemned China for imprisoning millions of Uighur, a minority group comprised mostly of Muslims, into concentration camps.
More news.