Hong Kong protestors take up javelins, bows and arrows
Posted by Thomas Bush / November 15, 2019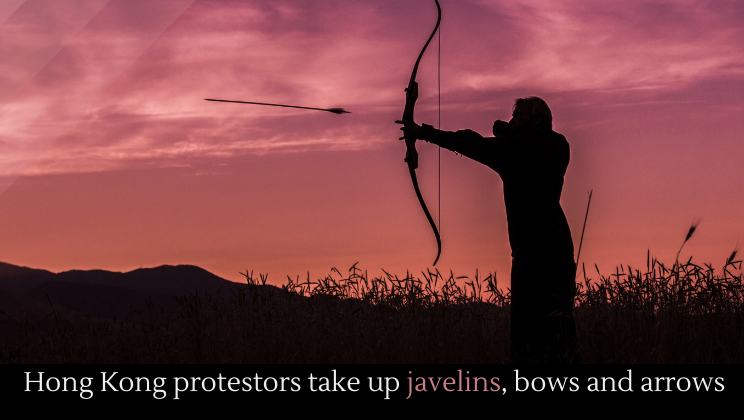 The protests in Hong Kong have been getting more violent every day this week. Now, students and protestors at the Chinese University of Hong Kong have taken up weapons, arming themselves with javelins and bows and arrows. They also have lit their arrows on fire.
On Wednesday, the city was crippled as much of the public transit was shut down after a night of violence at the Chinese University of Hong Kong. Schools were also canceled around Hong Kong as university students barricaded themselves in the school.
On Tuesday, police stormed the Chinese University of Hong Kong, where protestors had erected barriers and set several small fires.They also pepper-sprayed and wrestled a pregnant woman to the ground.
The protests became violent on Monday. Police officers shot a man at point blank range, and protestors doused a man in gasoline and lit him on fire after he criticized them. Both men are in the hospital.
The Hong Kong government withdrew the extradition bill that began months the protests, but they continue to escalate. Carrie Lam, the city's chief executive, says that the protestors will bring the city to ruin.
Protests began earlier this summer when China wanted the ability to extradite from Hong Kong to mainland China. Those plans were quickly paused, but the protests continued. Protestors were no longer concerned with the extradition from Hong Kong––instead, they were demanding wider democratic reforms.
More news.