India on total lockdown, Waffle House closes 365 locations, cruise ship full of corona heads to Florida
Posted by Thomas Bush / March 25, 2020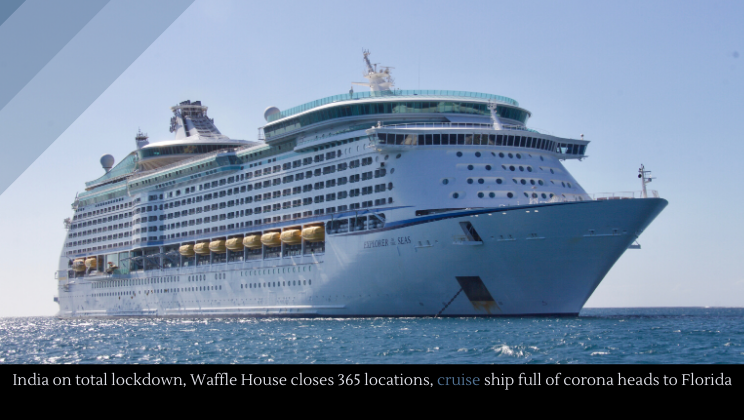 Although everyone is waiting for news about the coronavirus, a.k.a. COVID-19, to get better, it's going to be awhile for that to happen. The entire country of India is on lockdown as the Prime Minister ordered its 1.3 billion citizens to stay home. 
Waffle House, a home-away-from-home for countless southerners, is closing 365 locations until the virus passes. Its workers will remain employed.
Despite these measures, the virus is still spreading, and it might get worse––a cruise ship with more than 40 people with flu-like symptoms are heading towards Florida. It will dock next week.
 Rand Paul tested positive for COVID-19. What's worse, he tested positive six days before he stopped going to work on the Hill, so you can expect more sick senators in the days and weeks to come.
Massachusetts citizens are under a stay-at-home order, the latest state since New Jersey's governor announced a stay-at-home order. Weddings, parties, and any other kind of gatherings are canceled.
California, Illinois, and New York are all on lockdown in an effort to slow the spread of COVID-19. The states have ordered that everyone stay at home unless they have a vital reason to be out, including grocery shopping, buying medicine, or exercise. It's not stopping Californians from hitting the beach, however.
More news.