It's on tape: the president is an international laughing stock
Posted by Josh Taylor / December 5, 2019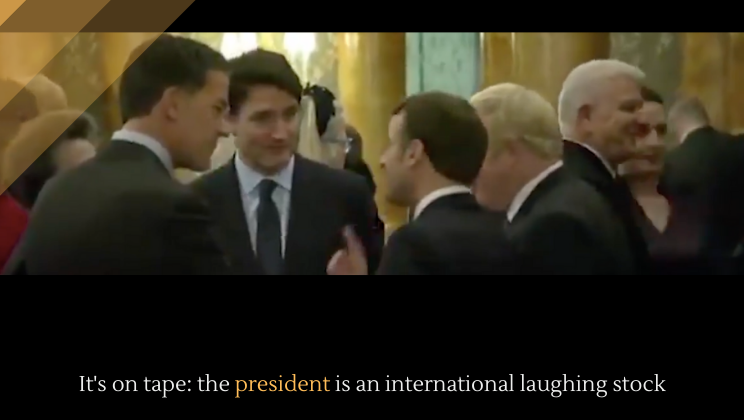 That 2014 tweet has not aged well. Case in point:
There it is, on tape. Major world leaders, including Boris Johnson, Emmanuel Macron, and Justin Trudeau, are laughing at Donald Trump. The President of the United States is literally an international a laughing stock.
And then, to get back at Trudeau, Trump called him "two-faced" and then refused to have a press conference.
And yet, a stunning 53% of Republicans prefer President Donald Trump over President Abraham Lincoln, according to a recent Economist/YouGov Poll. Only 47% think that Lincoln was the better president. The same poll points out, however, that 75% of Americans agree that Lincoln was the better president.
It's mind boggling to think that anyone would prefer Trump over Lincoln. Lincoln was a bona fide genius who held the Union together despite almost impossible odds.
There might be an explanation for that, though. As the Trump impeachment hearings get underway, and as the GOP ignores them or refuses to participate, his (and the GOP's) critics are accusing them of blindly following Trump. According to the Week, the GOP is completely beholden to Trump because they abuse their power as much as he does.
Republican primary challenger Joe Walsh believes something similar. He called the GOP a "cult" that is "is all about washing their leaders' feet every day."
That's the only thing that can explain how Trump supporters could look the other way at the sheer hypocrisy of Trump's 2014 tweet.
More news.