Jeff Sessions forced to resign, nationwide protests planned
Posted by Josh Taylor / November 8, 2018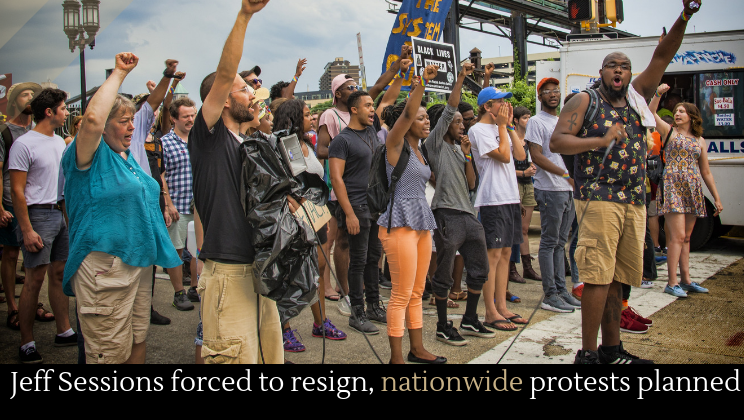 Less than twenty-four hours after the polls closed on the 2018 midterm elections, President Trump asked for Jeff Sessions's resignation, which Sessions delivered. The move immediately sparked criticism from Democrats, who believe that this might be Trump's first step towards stopping the Mueller investigation. The New York Times noted that "Senator Lindsey Graham, Republican of South Carolina, who said in 2017 that there would be "holy hell to pay" if Mr. Trump fired his attorney general, offered no criticism of the president on Wednesday."
The New York Times compared Sessions's firing to Rumsfeld's in 2006: "The abrupt ouster of Mr. Sessions resembled in some ways the decision by President George W. Bush to oust Defense Secretary Donald H. Rumsfeld in 2006 the day after a similar electoral defeat in midterm elections. In that case, Mr. Bush was attempting to mollify his critics. Mr. Trump's decision to fire Mr. Sessions appeared likely to inflame his adversaries on Capitol Hill." It seems most likely that Trump has been waiting to fire Sessions, but the Republican Party prevented him from doing so for fear of massive electoral fallout.
According to "David Laufman, a former high-ranking DOJ official who oversaw parts of the Russia investigation in his role as chief of the Counterintelligence and Export Control Section, said Trump's 'installation of a political loyalist who previously questioned the merits of the special counsel investigation must be viewed precisely for what it is: a preliminary assault on the special counsel's latitude to complete his essential work and by extension on the rule of law.'" Democrats are, as a result, calling on Sessions's replacement, Matthew Whitaker, a Trump loyalist, to recuse himself from the investigation. Before his appointment, Whitaker criticized the special counsel investigation.
Progressive groups around the nation are planning to protest Sessions's firing and Whitaker's appointment. The organizing group is called MoveOn, and they have issued their "red line alert," saying that Trump has crossed a red line.  The organization had previously set up a rapid response protest plan in the event that Mueller was fired. They believe Whitaker's appointment has triggered those protests:
BREAKING: PROTESTS CALLED FOR THURSDAY, NOVEMBER 8, 5 PM LOCAL TIME
Donald Trump has installed a crony to oversee the special counsel's Trump-Russia investigation, crossing a red line set to protect the investigation. By replacing Rod Rosenstein with just-named Acting Attorney General Matt Whitaker as special counsel Robert Mueller's boss on the investigation, Trump has undercut the independence of the investigation. Whitaker has publicly outlined strategies to stifle the investigation and cannot be allowed to remain in charge of it. The Nobody Is Above the Law network demands that Whitaker immediately commit not to assume supervision of the investigation. Our hundreds of response events are being launched to demonstrate the public demand for action to correct this injustice. We will update this page as the situation develops.
More politics.