Kids make up 15% of COVID cases, and some docs say they're getting sicker
Posted by Annie May / August 12, 2021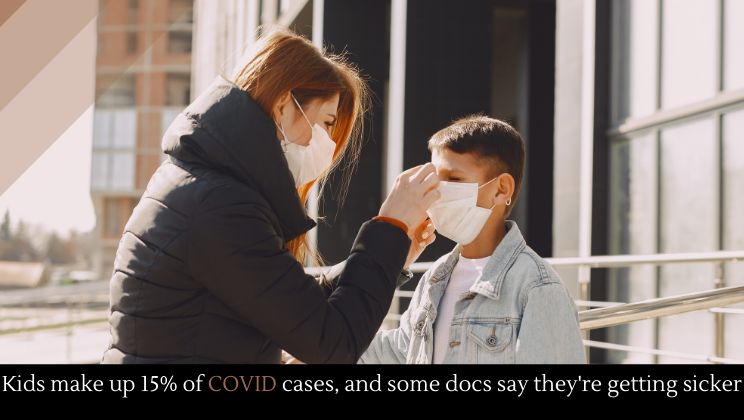 More children are getting sick from COVID, largely due to the Delta surge. According to the American Academy of Pediatrics, some 15% of COVID cases are children, and some doctors say they're getting sicker. An infant in Houston, for example, was airlifted 150 miles because there weren't enough beds there.
An increase in rare "breakthrough" cases––that is, cases in which a vaccinated person gets COVID––show that the unvaccinated pose some threat to the vaccinated by dint of their sheer numbers.
Major tech employers, including Google, Facebook, and Netflix, are requiring proof of vaccination of employees. Apple is requiring both customers and employees to wear masks, regardless of vaccination status. Similar things are happening outside the tech world. Disney World, for example, will require guests to wear masks indoors.
The rapid spread of the Delta variant has forced the United States––indeed, the world––into restrictions similar to those enforced mid-pandemic. Nevada has issued an emergency order in 12 of 17 counties requiring everyone––vaccinated or unvaccinated––to wear masks.
Some San Francisco bars are requiring proof of vaccination for entry. Anthony Fauci has said that the CDC is considering recommending that everyone wear masks, regardless of vaccination status, as cases in the United States continue to rise.
As COVID cases soar around the world, some countries are considering imposing restrictions. Pakistan has banned domestic travel for the unvaccinated, and Germany might also impose restrictions on those who have not been vaccinated.
Russia is registering record-breaking numbers of daily virus deaths as it struggles with a third wave of COVID. Russia has seen its highest daily rise in COVID cases since January, and last week, it set a new record for COVID deaths––the fifth in as many days––as the Delta variant spread.
In a move with terrifying echoes of March 2020, Hong Kong has banned all flights from the United Kingdom in order to stop the spread of the Delta COVID variant. The variant is already spreading rapidly around the world. More than 2/3 of COVID cases in Lisbon, Portugal are from the Delta variant, which is beginning to spread around the country. The World Health Organization has encouraged fully vaccinated people to keep practicing COVID precautions as the Delta variant spreads rapidly.
In Springfield, MO, there has been a 225% increase in hospitalizations since June 1, in large part thanks to the new Delta variant. The Delta variant, a more infectious variant of COVID-19, is infecting a rising number of people in rural Kansas and Missouri. The spread of the variant likely stems from the regions low vaccination rates.
The Delta variant has also been found in Arizona. Its arrival is alarming because, so far, only a handful of states have reached the goal of a 70% vaccination rate. Anheuser-Busch is even giving away free beer when America reaches its vaccine goal. The fewer people who are fully vaccinated, the more likely there is to be another surge or new variants.
Fully vaccinated people in several southern California towns have tested positive for COVID, serving as a reminder that the vaccines are not 100% effective and thus as many people as possible need to get it. COVID rates are slowing in the South and the plains states, worrying health experts. Appointments for the first COVID shot have plummeted by about 50% in Los Angeles, worrying public health officials in a state thrashed by the virus.
Last month, one of the Indian COVID variants was reported in Texas, affecting two children under 12.
The World Health Organization has classified a COVID variant from India as a global health risk because of its highly contagious nature and evidence suggesting that it can evade some vaccine protections.
More news.