Majority of Republicans think Trump is better than Lincoln
Posted by Robert Leonard / December 1, 2019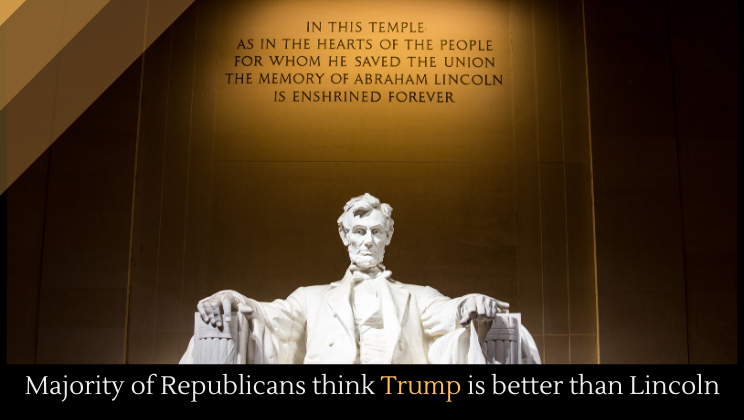 A stunning 53% of Republicans prefer President Donald Trump over President Abraham Lincoln, according to a recent Economist/YouGov Poll. Only 47% think that Lincoln was the better president. The same poll points out, however, that 75% of Americans agree that Lincoln was the better president.
It's mind boggling to think that anyone would prefer Trump over Lincoln. Lincoln was a bona fide genius who held the Union together despite almost impossible odds.
There might be an explanation for that, though. As the Trump impeachment hearings get underway, and as the GOP ignores them or refuses to participate, his (and the GOP's) critics are accusing them of blindly following Trump. According to the Week, the GOP is completely beholden to Trump because they abuse their power as much as he does.
Republican primary challenger Joe Walsh believes something similar. He called the GOP a "cult" that is "is all about washing their leaders' feet every day."
A former member of Sun Myung Moon's Unification Church has also accused Donald Trump of being a cult leader. In this article, he describes how he was so deep in that church that his family hired a "deprogrammer" to kidnap him and convince him to leave the church. After five days, he realized he was "brainwashed." Since then, he has devoted himself to learning how "brainwashing" works and how cult leaders "control" people.
Although such language is inflammatory and perhaps, as a result of its intensity, convincing, it's very important that we don't give into such polemics. The word "cult" lacks real meaning––instead, it's just a word we use to describe groups we don't like, and doing so risks dehumanizing or at the very least misunderstanding people who are a part of those groups. Is it really helpful to paint the entire GOP––which accounts for about half of the country––as a bunch of brainwashed drones? Is that beneficial to the national discourse?
More news.