McDonald's now requires masks
Posted by Catherine Reed / July 27, 2020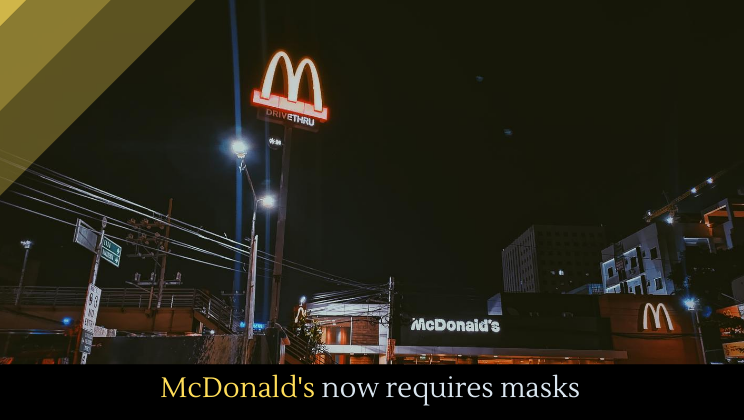 McDonald's is now requiring customers wear masks, making it the latest company to require masks of its patrons. Last week, The Home Depot issued the same order. Recently, the state of Arkansas, CVS, and Target are the latest entities to mandate masks as COVID cases rise. The increase in cases comes largely as young people refuse to wear masks, either for political reasons or because they simply don't care. Dr. Anthony Fauci issued a plea to young people to wear masks.
Before that, Best Buy, Walmart, and Kroger have all announced that they will require customers to wear masks in the stores. Already, things aren't going well. An unmasked Florida man (only in 2020 would this sentence make sense) pulled a gun during a confrontation over his lack of face protection.
Similarly, Alabama has issued a statewide mask order, while Georgia's governor overruled strict mask orders at the local level. The governor called these rules "unenforceable," but such an order looks like a political move. That's because, unfortunately, masks have become politics––like everything else recently. For some, masks are a simple health precaution that can help stop COVID-19. For others, they're a sign of government overreach and the first steps of tyranny. There's no simple solution to that dilemma, so one thing is sure: the worse this pandemic gets and the more masks are necessary, the more conflict we will see.
As more and more large retail chains and states require people to wear masks, a small but annoyingly vocal segment of the population is spreading misinformation about mask use. One of the most popular theories is that mask use reduces your blood oxygen levels by making you breathe in the CO2 you just exhaled. Tired of such nonsense, one doctor ran 22 miles wearing a mask to prove that blood oxygen levels will not be significantly affected by masks. He was right––his oxygen saturation remained within 98% of where it always was, which is no different than anyone else running 22 miles.
More news.