Medical doctors are taking on the NRA
Posted by Josh Taylor / November 14, 2018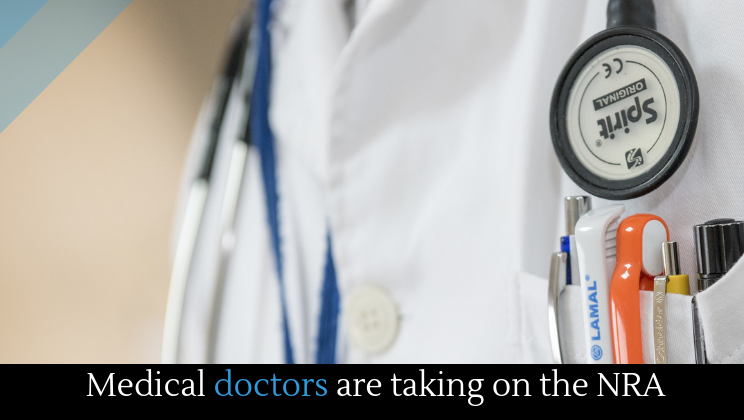 On November 7, the NRA fired off a tweet heard round the world.
Someone should tell self-important anti-gun doctors to stay in their lane. Half of the articles in Annals of Internal Medicine are pushing for gun control. Most upsetting, however, the medical community seems to have consulted NO ONE but themselves. https://t.co/oCR3uiLtS7

— NRA (@NRA) November 7, 2018
Hours after this tweet, a former Marine took a handgun into a country western nightclub in California and murdered twelve people.
San Francisco doctor named Judy Melinek, forensic pathologist, read the tweet before heading into a perform an autopsy on a gunshot victim. From the Chronicle:
"We do our jobs every single day, and our job is to be an expert on what bullets do to bodies," Melinek, a 49-year-old mother of four, told me this week. "We're the ones who are called to the scene (of homicides). We are the ones who testify in court about the pain and suffering that happens because of gun violence. We're the ones who see the consequences of lax gun policies."
Incensed by the NRA's tweet, she fired off her own:
Do you have any idea how many bullets I pull out of corpses weekly? This isn't just my lane. It's my fucking highway. https://t.co/48S9UIFaV2

— Judy Melinek M.D. (@drjudymelinek) November 9, 2018
By the time she was done with her autopsy, her post had gone––as it were––viral. Other doctors began to chime in. Dr. Marianne Haughe wrote: "I see no one from the @nra next to me in the trauma bay as I have cared for victims of gun violence for the past 25 years. THAT must be MY lane. COME INTO MY LANE. Tell one mother her child is dead with me, then we can talk." Doctors began to post graphic pictures of gunshot-related surgeries––blood-spattered gowns and masks, bloody rags on floors, and bullets in metal pans.
The drama was sparked by a paper outlining a public health approach to reducing firearm deaths. CP Senior Vice President of Governmental Affairs and Public Policy Robert Doherty, co-author of the paper, commented: "All of our recommendations are supported by a comprehensive review of research on the causes of gun violence, & policies that could reduce it. Where the evidence is limited, we said so," he wrote. "All of our recommendations were reviewed and approved by ACP physician-members who serve on our health policy committee, several of whom are gun owners."
It's hard to say how impactful the twitter onslaught will be. The NRA has heretofore been immune to criticisms, even in the wake of their terrible replies to mass shootings. It's unlikely that these doctors' tweets will leave the liberal echo chambers where they're currently reverberating. That being said, doctors and nurses are still among the most respected professions in the nation. It's possible that their criticisms might be more effective than others––if they're heard.
More news.