Melania Trump criticized for wearing "I really don't care do u?" jacket on migrant visit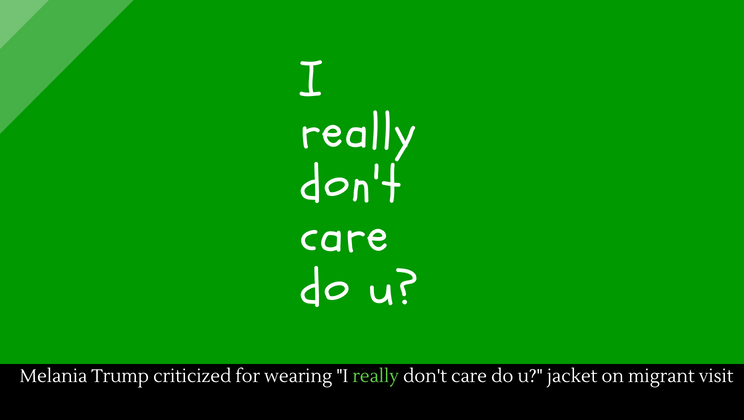 Melania Trump, who usually wears fashion pieces ranging in the thousands of dollars was spotted in a forty-dollar Zara jacket reading, "I really don't care do u?" Most times, people would likely love her wearing that jacket––and that it is an affordable piece wouldn't hurt either. But here's the issue: she wore it to a migrant visit. While some critics give her the benefit of the doubt, others––particularly on Reddit––are less generous. One gilded comment reads:
That's because this was a DELIBERATE choice.

Now, obviously, the first lady's office has a personal stylist, and all her stuff were curated, but this was a personal choice by her.

The reason is simple, the first lady is known for having an expensive taste. She wears stuff from designers such as Dior, Chanel, Gucci, Michael Kors, Givenchy and so on. While Zara might seem like a high end brand for many people here, she wouldn't be caught dead in Zara normally, especially since this is apparently a $39 jacket compared to all her other jackets that go for thousands and some tens of thousands of dollars. There is no way her stylist would put her in a Zara jacket unless she personally approved it.
Full story at BBC.
More news.
Posted by Josh Urich