Mike Pompeo held lavish dinner parties on the government's dime
Posted by Thomas Bush / May 21, 2020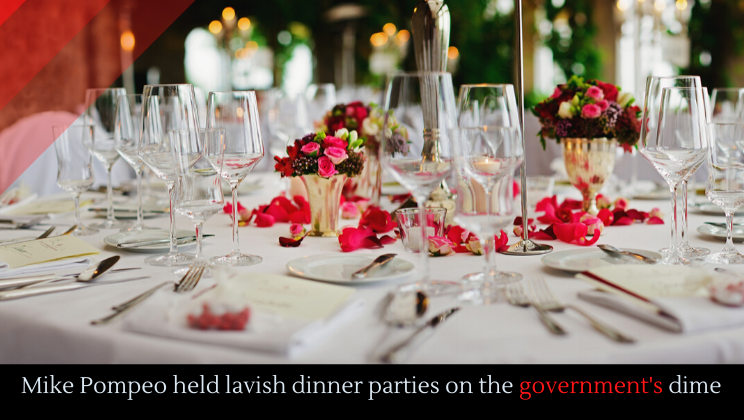 Mike Pompeo held lavish dinners on the government's dime––that means your dime, if you pay taxes––to further his political career. Ostensibly, those were diplomatic dinners, but in reality the majority of invitees were donors and media people.
But what should we expect from someone so closely linked to Trump, who reeks of corruption? According to a recent ProPublica investigation, the Trump administration pushed FEMA to approve contractors for a government job who never even bid, circumventing the normal process for unknown reasons.
According to a New York Times investigation, Donald Trump's family trust and some of his associates have a small stake in Sanofi, the company that makes it.
In the early days of Trump's COVID briefings, they were essentially a parade of CEOs who lavish praise on Trump.
Dr. Moncef Slaoui, a former pharmaceutical executive Trump tapped to head up the government's COVID vaccine program, owns $10 million in stocks in one of the federally-funded companies working on an inoculation. This is the latest example of how Trump is benefitting financially from his office.
Since Trump took office, the U.S. government––that is, you the taxpayer––has paid Trump's company nearly a million dollars in room rentals and other expenses.
And though Trump's reelection campaign is only really just getting starting, his campaign manager Brad Parscale has already had $40m paid to his companies from the campaign. Parscale isn't the only one making hay out of Trump.
More news.