Mike Pompeo says China will "pay a price" for COVID's economic impact
Posted by Annie May / April 27, 2020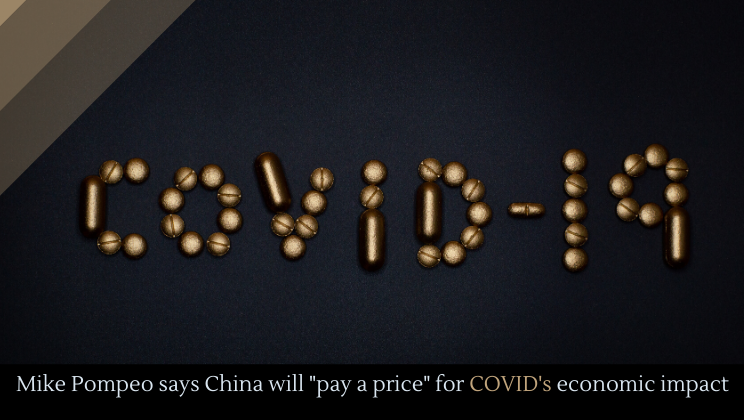 While China is using misinformation and PR campaigns to rewrite the story of the novel coronavirus in order to make itself the hero of the whole debacle, Secretary of State Mike Pompeo has said that China will "pay a price" for COVID's impact.
Although the China first tried to hide the outbreak, it is now flooding the world and its own people with information. Tons and tons of information. All of it, of course, nonsense. The aim is to create confusion to the point that China itself looks good.
It's no wonder that China wants to spin the story. The damage caused by this virus has been nothing short of catastrophic––like, disaster movie level catastrophic––and China's reputation will undoubtedly suffer.
Oil prices dropped over 300%, plummeting into the negative numbers and bottoming out in the -$20-30 range. That means that, if you were to "buy" a barrel of oil, you would be paid to collect and store that oil.
Iconic department store Neiman Marcus is expected to file for bankruptcy protection as soon as this week as a result of the economic fallout from the COVID pandemic. The store already had debt before it was forced to shut its 43 locations, ultimately leading to the plans to file bankruptcy. This is the first department store to fall, but it seems likely that more will follow.
AMC Theaters is reportedly in talks with bankruptcy lawyers to manage its massive, $4.9 billion debt load. COVID has hit the theaters hard. Not only are state lockdowns and social distancing leaving theaters closed, when those measures are eased theaters will likely be the last places to open––and even then, they may run at half capacity. And then they have to deal with studies, which have pushed back productions and released films digitally.
COVID is ravaging the economy. A shocking 16 million Americans have lost their jobs the past few weeks. That puts the unemployment rate at around 13%, according to the New York Times. For comparison, the Great Depression was around 25%.
Last week, the number of Americans applying for unemployment claims doubled from the week before, and that week was already a record-setting week!
In the continuing economic fallout of the COVID epidemic, the S&P 500 is set for its worst first quarter since 1938. The U.S. government is passing economic stimulus packages, but all is not tell––the Post Office may have to close if it doesn't get funding by June, and American Airlines has asked for $12 billion.
Cheesecake Factory CEO and chairman David Overton has told landlords for all its locations that it won't be paying rent for awhile. It is not recommended that you try this at home. COVID has caused the restaurant to totally close 27 restaurants temporarily while shifting others to carry-out only.
In far less hilarious news, the mayor of Atlanta has warned that her city's ICU units are full. If cases surge there, we may see scenes like those in Europes, with hospital patients spilling into the hallways.
The entire country of India is on lockdown as the Prime Minister ordered its 1.3 billion citizens to stay home.
Waffle House, a home-away-from-home for countless southerners, is closing 365 locations until the virus passes. Its workers will remain employed.
Despite these measures, the virus is still spreading, and it might get worse––a cruise ship with more than 40 people with flu-like symptoms are heading towards Florida. It will dock next week.
More news.