Modern vaccine granted full FDA approval
Posted by Annie May / February 1, 2022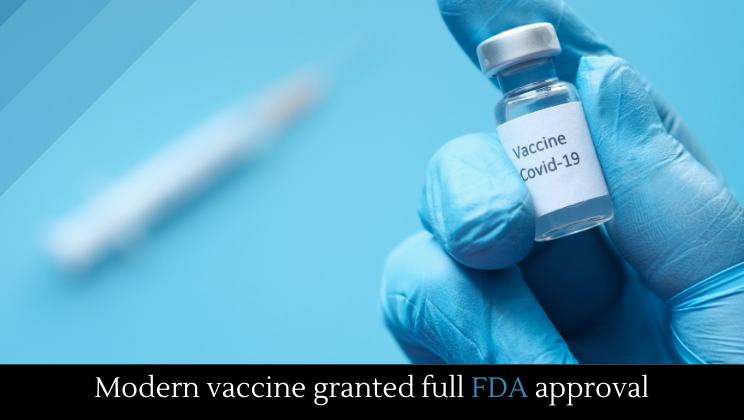 The FDA has granted full approval to Modern's COVID vaccine, which has heretofore had emergency authorization. Hopefully the authorization will help stop spread the misinformation about the COVID vaccine. The Center for Countering Digital Hate, a British non-profit with offices in the United Kingdom and the United States, has determined that two-thirds of the anti-vaccine propaganda comes from just 12 influencers, most of whom are in the United States.
Critics are calling the CDC "unrealistic" for suggesting schools cancel nearly all activities and warning those who have recovered from COVID to avoid anyone with a comorbidity (which amounts to 80% of Americans).
The CDC is warning Americans to wear the "most protective mask possible," stopping short of recommending N95 masks. Nevertheless, Anthony Fauci has warned that Omicron will "find just about everybody," but the the vaccinated should still be protected.
A new COVID variant has been discovered in Cyprus, which has a genetic background similar to the delta variant but with 10 of omicron's mutations present. The Moderna CEO said that we will likely need a second booster shot as vaccine efficacy wanes, and the new variant will likely speed that.
President Biden has doubled the federal order of Pfizer's new COVID pill, along with expediting their shipment and distribution as omicron surges. COVID cases have spiked 948% in Florida, while 7-day hospitalizations have increased by 40% (between Christmas and New Years alone). The omicron vaccine is ripping through the population at an alarming rate, which has led to a spike in children being sent to the hospital.
The United States has clocked nearly half a million COVID cases, a high for any country at any time during the pandemic. Within the last week, 1 in 50 Manhattan residents have been infected with COVID, a sign of just how infectious the new variant is. Meanwhile, France is reporting record high COVID cases as omicron sweeps through Europe.
So far, omicron has been detected in 89 countries, and cases are doubling every 1.5-3 days in places experiencing community transmission. According to a new study, the omicron variant is no safer than the delta variant, and it is five times more likely to reinfect people who have already had COVID.
The Omicron variant grows 70x faster than the delta variant, which may account for its fast spread. In the final analysis of its COVID pill, Pfizer says the drug is highly effective, even against Omicron, and it should be released before the end of the year.
Before Omicron, Pfizer reported a 90% reduction in hospitalizations and death in high-risk COVID patients. In terms of the vaccine, Pfizer's CEO announced that the government ordered enough COVID vaccine doses for every child aged 5 to 11 in the country. That's about to be put to the test––kids have started getting the COVID vaccine.
More news.